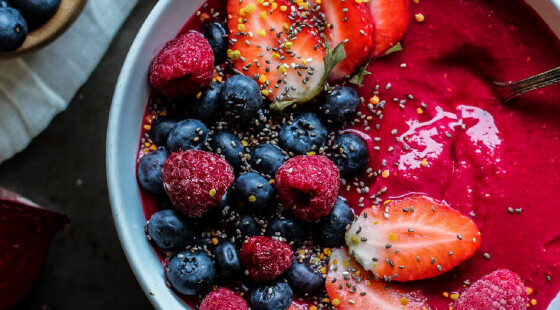 Berries and beets are chock full of anthocyanins, which are a type of flavonoid with antioxidant, anti-inflammatory and anti-viral effects! Anthocyanins are the pigments that give these foods — raspberries, blueberries, beets, and so on — their deep red, purple and blue hues. 
You can read more about the Power of Berries, including their ability potential inhibit viruses within human cells, in this detailed blog post!
This recipe is easy, delicious, and fun to look at!
6 ingredients · 10 minutes · 2 servings
Ingredients
1 Beet (medium, peeled, diced)
1 cup Frozen Mango
1 cup Frozen Raspberries
1 Tbsp Pitted Dates
1 tsp Schisandra Berry Powder (optional)
1 cup Unsweetened Almond Milk
Directions
In your blender or food processor, combine the beet, frozen mango, frozen raspberries, dates, schisandra berry powder and milk. Blend until smooth and thick.
Transfer to a bowl and add toppings. Enjoy!
Nutritional Information
Amount per serving:
Calories – 136
Carbs – 29g
Fiber – 6g
Sugars – 22g
Protein – 3g
Fat – 2g
Koru Nutrition
info@korunutrition.com