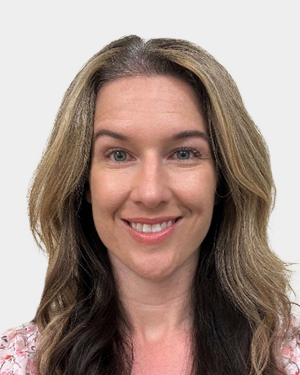 Registered Dietitian
Area: Huntsville/North Bay/Orillia
Breena Bladon

---
RD
Breena is a registered dietitian and Certified diabetes Educator. She graduated from The University of Western Ontario in 2006 with an Honours Bachelor of Science in Foods and Nutrition. She completed her comprehensive dietetic internship at Sunnybrook Health Sciences. In 2010 she became a Certified Diabetes Educator.
Breena promotes an "all foods can fit" philosophy with an emphasis on setting individualized client goals that are sustainable and realistic for the client. Over the last 17 years Breena has worked in a variety of settings as a dietitian which enables her to bring a well-rounded perspective to client-centered care. Having started in public health, but missing client contact, she moved to diabetes education and home-care services. Following the birth of her first child, she ventured into long term care consulting and rehabilitation work. Shortly after her second child Breena and her family moved to beautiful Muskoka where they enjoy all that cottage country has to offer. Here, she works in primary and acute care as well as offering consulting services as requested.
Areas of Experience:
Diabetes Management
Cardiovascular Disease and Cholesterol Management
Digestive Health
Mental Health
Eating Disorders
Dysphagia Management
Renal Disease
Motor Vehicle Accidents
Wound healing
Rehabilitation Nutrition
Enteral and Parenteral Nutrition
Healthy Aging
Prenatal health
Breena and her family spend a lot of time on their large forested property hiking. She enjoys camping with her family and try to go to a different provincial park every time. When not running from one kids sports game or practice to the other she spends time at their family cottage on the French River. If not doing any of those things she can be found in the gym lifting heavy things!