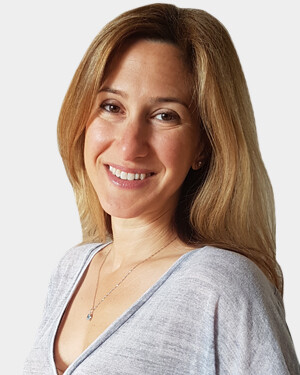 Holistic Nutritionist
Area: Toronto, West GTA
Languages: Italian
Marisa DiBattista
B.Kin, B.H.Sc (OT), CNP
---
Marisa DiBattista is a certified nutritional practitioner at Koru Nutrition. With a passion for wanting to help people discover the power of food and its ability to heal the body, Marisa takes into account a person's heritage and biochemical individuality to formulate the optimal diet.
Marisa graduated from the Institute of Holistic Nutrition with first class honours. Marisa also holds a Bachelor of Kinesiology, a Bachelor of Health Sciences in Occupational Therapy from McMaster University and is a member of the Canadian Association of Natural Nutritional Practitioners.
Marisa has completed certification courses in clinical detoxification, and raw food preparation and is undergoing her yoga teacher training certification. Marisa has worked as an occupational therapist for COTA and has performed WSIB assessments and prescribed exercise programs when she worked as a kinesiologist at Woodbridge Physiotherapy.
Marisa currently provides cooking classes for kids, teens, and adults as well as individual and family nutritional consultations, supplement protocols and meal planning with a focus on:
digestive health
weight loss
mental health
blood sugar balancing
adrenal imbalance
detoxification
brain injury
and childhood nutrition.
Marisa has written blogs for Benchmark Group Toronto and provides tutoring for students in the areas of anatomy, physiology, and body and metabolism.
In her spare time Marisa is a yoga teacher, she loves to cook and bake and is starting her own kombucha business in Italy. Marisa use to be a marathon runner and enjoys running, loves spending times outdoors walking/hiking and doing anything in nature. She has 3 kids and is busy with their competitive dance and soccer.