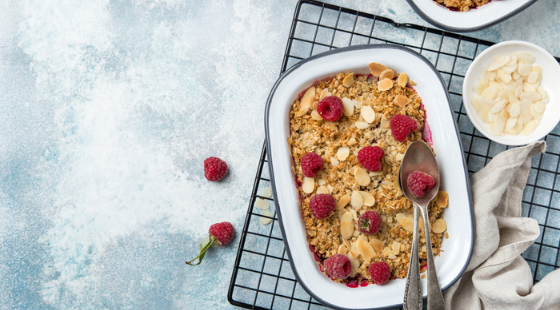 Whether you're looking to impress your dinner guests, enjoy a sweet treat yourself, or bake up a special weekend breakfast – this raspberry apple crisp is sure to do the trick!
Satisfying your sweet tooth while avoiding refined sugars can be challenging, but this crisp is an excellent option as it uses maple syrup in place of refined sugar.
It is, however, important to remember that foods high in naturally occurring sugar such as maple syrup need not be added to the diet, but can be used as a healthier alternative to refined sugars to replace your current sugar intake.
But why is avoiding refined sugar so important?
Well, for one reason, refined sugar can have a big impact on our mood. Consuming refined sugars, such as cane sugar, leads to large peaks and dips in our blood sugar levels. Evidence suggests that these fluctuating levels impacts our mood, including symptoms of depression and anxiety. In fact, research shows that individuals with diabetes are 20% more likely to be diagnosed with anxiety compared to healthy controls (1). For more on replacing refined sugars in your diet, check out our article on sugar alternatives.
However, when we consume natural sugars, such as those found in fruits, we do not get the same fluctuations in our blood sugar. Additionally, when eating fruit, we also get fibre, vitamins, and other nutrients not found in sources of refined sugar. For example, raspberries are filled with many antioxidants which fight oxidative stress in our body (2). Fighting oxidative stress is important to prevent cellular damage that leads to disease.
This recipe also contains almonds, which is a good ingredient for modulating blood sugar. Almonds are high in magnesium which, when used as a supplement has been shown to lower blood sugar levels and improve insulin function (3). Plus, the contain healthy fats, protein, and fibre – all of which assist with blood sugar balance, and helping you feel satisfied by your meal!
Extra tip: If you want to boost the protein in this dish, you can add a bit of vanilla protein powder or an unflavoured collagen powder, along with a little extra coconut oil to avoid the crisp becoming too dry.
References: 
1. Li, C., Barker, L., Ford, E., Zhang, X., Strine, T., & Mokdad, A. (2008). Diabetes and anxiety in US adults: findings from the 2006 behavioural risk facto surveillance system. Diabetic Medicine, 25(7), 878-881. doi: 10.111/j.1464-5491.2008.02477.x 
2. Skrovankova, S., Sumczynski, D., Micek, J., Jurikova, T., & Sochor, J. (2015). Bioactive Compounds and Antioxidant Activity in Different Types of Berries. International Journal of Molecular Science, 16(10), 24673-24706. doi: 10.3390/ijms161024673
3. Guerrero-Romero, F., & Rodriguez-Moran, M. (2011). Magnesium improves the beta-cell functioni to compensate cariatioin of insulin sensitivity: double-blind, randomized clinical trial. European Journal of Clinical Investigations, 41(4), 405-410. doi: 10.1111/j.1365-2362.2010.02422.x.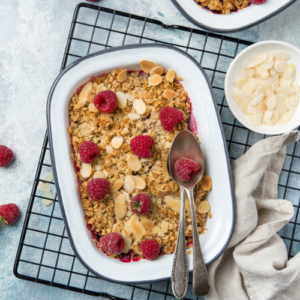 Raspberry Apple Crisp
Whether you're looking to impress your dinner guests, enjoy a sweet treat yourself, or bake up a special weekend breakfast – this raspberry apple crisp is sure to do the trick!
Ingredients
½

cup

Raspberries

1

Apple

chopped

2

tsps

Cinnamon

divided

1

tbsp

Coconut Oil

¼

cup

Cashews

chopped

¼

cup

Almonds

slivered or chopped

3

tbsps

Almond Flour

1

tbsp

Maple Syrup

1

tbsp

Mint Leaves

optional
Instructions
Preheat oven to 350ºF (177ºC).

In a small baking dish, add the raspberries and apple.

Mix half of the cinnamon into the raspberries and apples and top with coconut oil. Set aside.

In a small bowl add the nuts, almond flour, maple syrup and the rest of the cinnamon. Mix together until well combined. Add this crumble mixture on top of the raspberries and apples, gently smoothing out the mixture to ensure all the fruit is covered. Place in the oven.

Bake for 25 to 30 minutes or until golden brown. Remove from the oven and cool slightly.

Once cooled, top with mint leaves, if using. Divide evenly between bowls and enjoy!
Notes
Nutrition Per 1 Serving:
Calories - 419
Sugar - 19g
Carbs - 37g
Fat - 29g
Protein - 9g