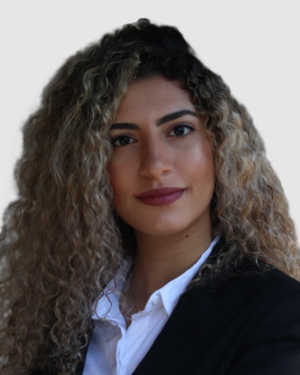 Registered Dietitian
Area:WindsorLanguages: Arabic
Walaa Yasin

BSc, RD
---
Walaa Yasin is a registered dietitian with Koru Nutrition. She is a strong advocate for using nutrition as a preventative and management tool for many chronic illnesses. She believes that nutrition education is the key to improving the health of others and enhancing their overall quality of life.
Walaa focuses on using a tailored interactive, hands-on approach to counsel individuals and maximize their learning experience. She also focuses on making small gradual changes, as well as setting goals with clients to achieve long term results. Walaa has used this approach in working with individuals from a variety of age groups and with different illnesses, as well as healthy adults wanting to improve their lifestyle.
Walaa's personal experience with family members who were diagnosed with a variety of chronic illnesses, fueled her passion for nutrition and motivated her to further enhance her education in dietetics.
After obtaining her undergraduate degree in nutrition and dietetics in 2016 from Western University in London, Ontario, Walaa continued her studies and obtained her master's degree from D'Youville College in Buffalo, New York. She completed her master's thesis on College students' diet quality, self-efficacy and family history of diabetes. She presented her findings at the New York State's Academy of Nutrition and Dietetics Annual Meeting & Expo in 2019.
Walaa has a strong interest in diabetes management and prevention. She completed her specialty internship rotation at the Western New York Endocrinology clinic in Buffalo, New York. Through her volunteer, internship, and work experience, Walaa gained valuable experience in working in different clinical, as well as community settings where she focused on the management of diseases such as:
diabetes mellitus
traumatic brain injury
hypertension
hyperlipidemia
congesitve heart failure
cardiovascular disease
renal disease
obesity
weight management
In her spare time, Walaa enjoys traveling, watching movies, and reading. She also loves cooking and baking and enjoys experimenting with different recipes and ingredients.
Walaa is a member of the Dietitians of Canada, the College of Dietitians of Ontario, and the Academy of Nutrition and Dietetics.