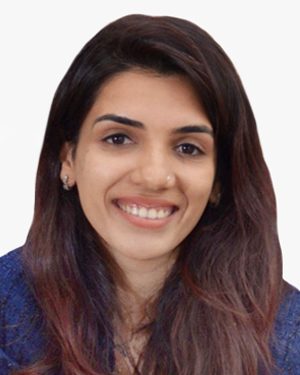 Holistic Nutritionist
Area: Halton, Hamilton
Area: Hindi, Punjabi
Gunjan Chopra
---
R.H.N
Gunjan is a Registered Holistic Nutritionist. Gunjan is a graduate from the Canadian School of Natural Nutrition (CSNN). In her constant endeavor to learn more about the wellness industry, Gunjan has certified herself in Weight Management, Clinical Nutrition, Sports Nutrition & Supplementation from the American College of Sports Medicine (ACSM).
She has work experience as a Nutritionist and Health Educator in Internal Medicine and Psychoeducation to achieve health and nutrition goals. She focuses on nourishing habits and strategies for her clients that integrate in their unique lifestyle and support their individualized health goals.
An advocate of "Health beyond the Weighing scale" Gunjan supports her clients on adopting sustainable healthy practices and whole foods approach that provide Physical, Physiological and Psychological support as she believes that the right mindset and behavior impacts our long term relationship with food.
She focuses on supporting clients with bespoke nutrition protocols, meal planning strategies and personalized nutrition counselling to manage concerns like:
Diabetes & Weight management
Hormonal Imbalance
Stress Management
Digestive support and Inflammation
A former Architect & baker, Gunjan spends her free time studying interior design & floor plans and updating herself on the real estate market. Her weekends are about exploring summer trails and baking healthy cakes & cookies for family & friends. She always finds time to unwind with a book by her side.