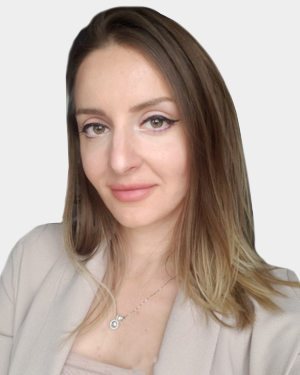 Registered Dietitian
Area: Toronto/GTA
Valeria Burnazov
RD
---
Valeria Burnazov is a registered dietitian who graduated with honours from the Food and Nutrition program from Ryerson University in 2012, and then went on to obtain her Master of Public Health in Community Nutrition from The University of Toronto, graduating in 2014.
Valeria is very passionate about food and nutrition; she believes that it has a direct impact on disease outcomes and longevity, and plays a direct role in many health conditions. She applies both a functional and preventative approach in her nutrition care. She also focuses on the individual relationship with food and adopting the correct psychological approaches. Even the best nutrition knowledge and education requires the correct application in order to be useful. She wholeheartedly believes that a healthy diet is delicious and enjoyable and should be a part of a healthy lifestyle, as opposed to a temporary diet.
Valeria has been working in the field of health and nutrition since 2009. She has experience working in various hospitals in mental health, which also involved the management of other comorbidities such as: obesity, type 2 diabetes, cardiovascular disease, renal disease and digestive issues. She has been working with motor vehicle accident victims since late 2020.
Valeria spends much of her spare time updating her nutrition knowledge, and believes in consistent education to be an effective clinician. Although she feels privileged to help others, she finds that she learns as much from her clients, as they learn from her.
Combining her work and internship experience, Valeria has worked in public health, as well as with clients and patients in the following areas:
Metabolic syndrome: Hypertension, Dyslipidemia, Type 2 Diabetes
Cardiovascular Disease
Dysphagia
Renal Health
Digestive Health
Mental Health, including Eating Disorders
Weight loss
Motor Vehicle Accidents
Although Valeria finds that much of her spare time is spent on researching nutrition, she also enjoys metaphysics, yoga, meditation, qi gong, spending time in nature, travel and cooking.