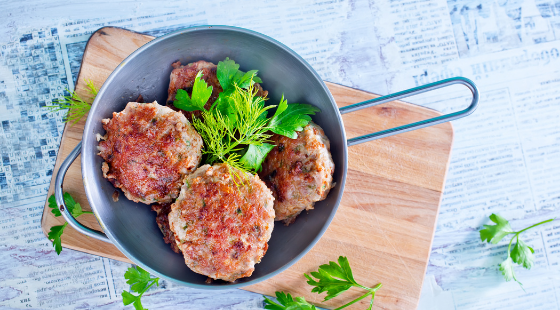 Symptoms including bloating, abdominal pain, constipation and diarrhea are all too familiar to an individual with irritable bowel syndrome (IBS).
For the management of IBS, a type of elimination diet, called the low-FODMAP diet, has shown success in improving these symptoms.
FODMAP is an acronym for short-chain carbohydrates that the human body has difficulty digesting, and therefore can lead to IBS symptoms. Recent studies suggest that up to 86% of patients find relief from these symptoms on a low-FODMAP diet (1). We've written more about the low-FODMAP diet here. Remember, it is important to talk to a health care professional, such as your family doctor or naturopathic doctor to rule out any more serious conditions within your digestive system. 
In the standard American diet (SAD), wheat is the biggest contributor to FODMAPs in the diet (2). It is typical for a SAD breakfast to contain wheat-based items such as cereal, bread, bagels, or baked goods. When these items are eliminated during a low-FODMAP diet, making breakfast can seem challenging. This recipe provides a flavourful, quick, and filling alternative to start your day! Plus, these breakfast sausages can be made in batches and frozen, to be heated in a toaster oven or pan for those on-the-go mornings.
Many fruits are considered high-FODMAP foods because they are high in fructose, a natural sugar. However, blueberries are low in fructose and are therefore safe to eat in moderate quantities on a low-FODMAP diet. Blueberries were also recently listed as one of our Top 10 Brain-Boosting Superfoods!
This recipe includes extra-lean ground turkey which, in addition to being a low-FODMAP food, is considered a heart healthy choice compared to other ground meats. It contains lower levels of saturated fats, which is a known risk factor for cardiac disease (3). Turkey also contains the amino acid tryptophan which is the building block of neurotransmitters that help us feel happy, sleep well, and reduce cravings. 
With garlic and onion both being high-FODMAP foods, it can be difficult to replace the flavour infusion these ingredients provide. Ginger is a wonderful low-FODMAP flavour alternative incorporated into this recipe. Ginger also has the added benefit of having anti-inflammatory and antioxidant properties (4), and an affinity for soothing the digestive system.
1. Nanayakkara, W., Skidmore, P., O'Brien, L., Wilkinson, T., & Gearry, R. (2016). Efficacy of the low FODMAP diet for treating irritable bowel syndrome: the evidence to date. Clinical and Experimental Gastroenterology, 9, 131-142. doi: 10.2147/CEG.S86798
2. Dunn, S., Datta, A., Kallis, S., Law, E., Myers, C., & Whelan, K. (2010) Validation of a food frequency questionnaire to measure intakes of inulin and oligofructose. European Journal of Clinical Nutrition, 65(3), 402-408. doi: 10.1038/ejcn.2010.272
3. O'Keefe, J., & DiNicolantonio, J. (2018). Effects of dietary fats on blood lipids: a review of direct comparison trials. Open Heart. 5(2). doi: 10.1136/openhrt-2018-000871
4. Mashhadi, N., Ghiasvand, R., Askari, G., Hariri, M., Darvishi, L., & Mofid, M. (2013). Anti-Oxidative and Anti-Inflammatory Effects of Ginger in Health and Physical Activity: Review of Current Evidence. International Journal of Preventative Medicine. 4(1), 36-42.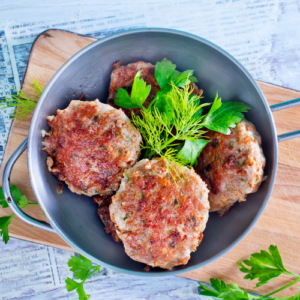 Blueberry Turkey Breakfast Sausage Patties
This recipe includes extra-lean ground turkey which, in addition to being a low-FODMAP food, is considered a heart healthy choice compared to other ground meats.
Ingredients
8

ozs

Extra Lean Ground Turkey

1½

tsps

Italian Seasoning

equal parts mixture of dried basil, dried parsley, dried oregano, dried thyme, and dried rosemary, do not use Italian Seasoning mixes with garlic, onion, or other high-FODMAP ingredients if you are on a LOW-FODMAP diet

1

tbsp

Maple Syrup

½

tsp

Ginger

peeled and minced

⅓

tsp

Sea Salt

2

tbsp

Arrowroot Starch

¼

cup

Blueberries

fresh, frozen or dried

1½

tsps

Coconut Oil
Instructions
In a large mixing bowl, combine the ground turkey, Italian seasoning, maple syrup ginger, salt and arrowroot starch, mixing until well blended.

Gently fold blueberries into the turkey mixture.

Divide the mixture into 4 equal parts. Using your hands, shape the mixture into patties, approximately 4-inches in diameter. Set aside.

Heat the coconut oil in a large frying pan over medium-high heat.

Once the pan is warmed, cook turkey patties for approximately 4-5 minutes on each side, until the patties are fully cooked through.
Notes
Nutritional information per serving:
Calories: 180
Carbs: 17g
Fibre: 1g
Sugar: 8g
Protein: 19g
Fat: 4g