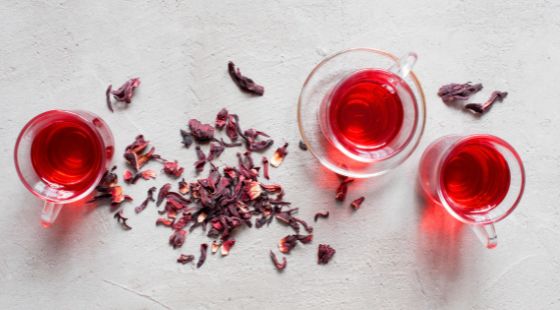 This Calming Tea is not just beneficial in the evenings, though. Try the Calming Tea recipe below the next time your mind and body need a break.
There are 5 herbs included in our Calming Tea recipe:
Passion flower has traditionally been used to reduce anxiety and insomnia. Some studies indicate that passionflower increases GABA production in the brain, leading to a relaxed feeling (1). GABA is a calming neurotransmitter that is also increased by mindfulness practices like yoga or meditation.
Lemon balm has traditionally been used to boost mood, reduce stress, and even to improve cognitive function (2). Studies have shown that lemon balm is not only effective for managing stress, but also for reducing restlessness and improving sleep quality (3). Outside of the therapeutic benefits, lemon balm's light and citrusy scent adds such a pleasant flavour to this tea blend as well!
Lavender is one of the most well-known herbs world-wide. It is renown for its calming qualities! While lavender has dozens of traditional uses, most applicable to this Calming Tea is lavender's affinity to reduce anxiety, improve mood, induce sleep, and improve stress tolerance (4). Plus, it smells amazing!
Chamomile is almost synonymous with Calming Tea! Many of our grandparents swore by the calming properties of chamomile. With a little scientific research, we now know that chamomile has some other exciting benefits including protection against certain cancers and improving heart health (5). Specific to this Calming Tea blend, however, we've included chamomile not only for the calming effects but for it's ability to help balance blood sugar levels. When blood sugar levels are imbalanced, this causes stress within the body and can make us feel off kilter. So, rebalancing blood sugar levels can help us feel centred again.
Because the plants are related, for those with ragweed allergies, it may be best to omit the chamomile from this recipe.
Hibiscus is a packed with antioxidants that give it a gorgeous deep pinky-red colour. Antioxidants can help reduce stress on a cellular level in the human body. Hibiscus is tart and floral and ties together the other flavours of this tea in a beautiful way. The addition of hibiscus makes this Calming Tea truly enjoyable to sip!
We hope you can make this Calming Tea a regular part of your self-care routine. Enjoy!
References:
1. https://www.healthline.com/health/anxiety/calming-effects-of-passionflower#calming 
2. https://www.healthline.com/health/lemon-balm-uses 
3. https://www.sciencedirect.com/science/article/abs/pii/S0944711306000250?via%3Dihub 
4. https://www.healthline.com/health/what-lavender-can-do-for-you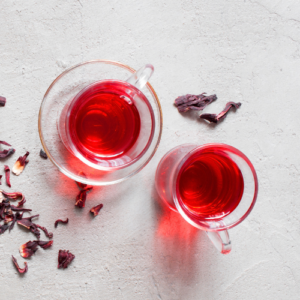 Calming Tea
A cup of this warm and soothing Calming Tea is an excellent way to begin a wind-down routine in the evening.
Ingredients
2

parts

Passion Flower

2

parts

Lemon Balm

1

part

Lavender Blossoms

1

part

Chamomile

2

parts

Hibiscus Flowers
Instructions
In a glass container with an airtight lid, combine the herbs together. You can make the batch as small or as large as you would like.

Boil water and pour it into a mug. Place 1 teaspoon of your blend in a tea ball or bag and place it in the mug.

Allow to steep, covered, for 5-7 minutes for maximum benefits.

Take a few deep breaths, and enjoy!