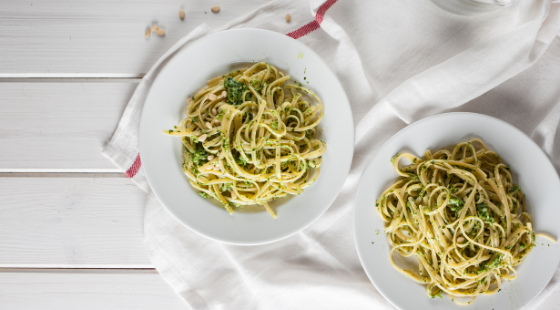 This Mediterranean Mackerel Pasta recipe is definitely a level-up to your regular pasta dish.
Taking only 20 minutes to prepare, it is the perfect way to spice up a busy evening! 
Plus, it's full of health benefits!
Mackerel is a super-fish, containing many ingredients to support your mental health. Firstly, because it is an oily fish, it is high in omega-3 fatty acids. These fatty acids play an important role in supporting the function of your brain cells. By providing a protective coating for the brain cells, they protect the cell membrane and improve communication between cells (1). When our brain cells are protected and functioning efficiently, it has a positive impact on our mood. In fact, research shows that lower dietary intake of omega-3 fatty acids is associated with higher rates of anxiety and depression (2).
Mackerel is also a high source of vitamin D. Low levels of vitamin D are linked to mood disorders such as anxiety and depression. When used as a supplement, vitamin D has been shown to significantly decreases symptoms of depression and anxiety, suggesting that it is effective at improving mood (3). Therefore, because of its high levels of omega-3 fatty acids, and vitamin D, mackerel is a fantastic ingredient for protecting against mood challenges. 
This recipe uses extra virgin olive oil to prepare the mackerel, which is regarded as one of the healthiest fats to consume. This is because of number of antioxidants it contains, which fight against oxidative stress in the body (4). Protection against oxidative stress is important to prevent cell damage and subsequent disease and other health problems including mood disorders.
Plus, instead of regular refined wheat pasta, we've used chickpea pasta! This increases the amount of protein in the meal, contains more fibre as compared to wheat pasta, and as a result, helps to maintain healthy blood sugar levels – keeping you feeling fuller for longer!
References:
Dyall, S. (2015). Long-chain omega-3 fatty acids and the brain: a review of the independent and shared effects of EPA, DPA, and DHA. Frontiers in Aging Neuroscience, 7, 52. doi: 10.3389/fnagi.2015.00052
Müller, C. P., Reichel, M., Mühle, C., Rhein, C., Gulbins, E., & Kornhuber, J. (2015). Brain membrane lipids in major depression and anxiety disorders. Biochemical Journal, 1851, 1052–1065. doi: 10.1016/j.bbalip.2014.12.014
Byrn, M., Adams, W., Emanuele, M., Mumby, P., Kouba, J., & Wallis, D. (2017). Vitamin D Supplementation Improves Mood in Women with Type 2 Diabetes. Journal of Diabetes Research, 2017, 1-11. doi: 10.1155/2017/823863. 
Beauchamp, G., Keast, R., Morel, D., Lin, J., Pika, J., Han, Q., … & Breslin, P. (2005). Phytochemistry: ibuprofen-like activity in extra-virgin olive oil. Nature, 437(7055), 45-46. doi: 10.1038/437045a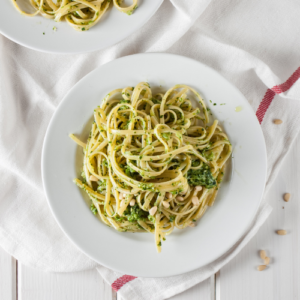 Grain-Free Mediterranean Mackerel Pasta
This recipe is definitely a level-up to your regular pasta dish. Taking only 20 minutes to prepare, it is the perfect way to spice up a busy evening! 
Ingredients
9

ozs

Chickpea Pasta

8

cups

Water

2

tbsps

Extra Virgin Olive Oil

3

cloves

Garlic

sliced thin

pinch

Cayenne

4

ozs

Canned Mackerel

skinless, boneless

½

cup

Green Olives

Salt and Pepper

to taste

¼

cup

Parsley

finely chopped

¼

cup

Pine Nuts

Chili Flakes

to taste (optional)

1

tsp

Lemon Zest

to garnish (optional)
Instructions
In a large pot over high heat, bring water to a rolling boil.

Once the pot of water is boiling, add the pasta (we used linguine). Cook according to the package directions.

While keeping an eye on your pasta, in a large pan, heat oil over medium-low heat. Once warmed, add garlic and cook, stirring often, for one to two minutes until fragrant.

Add the mackerel and cayenne to the pan with the garlic. Stir until the mackerel is warmed through and well-coated. Add the olives to the pan to warm through, and season with salt and pepper to taste.

Strain the pasta and rinse. Add the pasta to the pan. Mix to combine.

Divide onto plates and top with parsley and pine nuts. Garnish with chili flakes and lemon zest, if using. Serve and enjoy!
Notes
Nutritional information per serving:
Calories: 253
Carbs: 15g
Fibre: 3g
Sugar: 2g
Protein: 13g
Fat: 16g