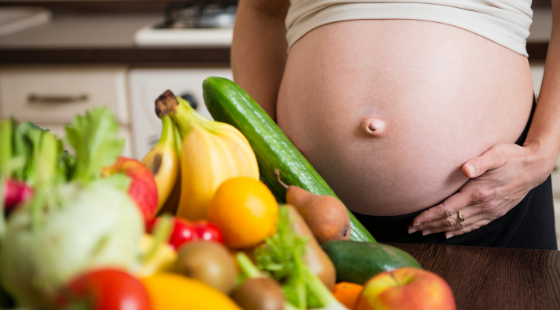 It can be an amazing experience to get pregnant and know that you are growing a life. But it can also be overwhelming as you begin considering what you can and can't do, and what you can and can't eat to ensure the health of both you and the new person growing inside of you.
To maintain a healthy pregnancy, you must be consuming approximately 300 extra calories each day. Ideally, these calories will come from a balanced diet of protein-rich foods, quality fats and oils, fruits, vegetables, and whole grains. Sweets and processed fats should be kept to a minimum. A healthy, well-balanced diet can also help to reduce some pregnancy symptoms, such as morning sickness, nausea and constipation.
So what is a healthy weight gain during pregnancy?
A woman who was average weight before getting pregnant should gain 25 to 35 pounds after becoming pregnant. Underweight women should gain 28 to 40 pounds. And overweight women may need to gain only 15 to 25 pounds during pregnancy.
In general, weight gain occurs as approximately 2 to 4 pounds during the first three months you're pregnant and 1 pound a week during the rest of your pregnancy. If you are expecting twins you should gain 35 to 45 pounds during your pregnancy. This would be an average of 1 ½ pounds per week after the usual weight gain in the first three months.
But where does all this extra weight gain go? Here is the break down:
What To Eat To Support Pregnancy
As mentioned above,  eating a balanced diet with a variety of whole foods helps ensure that you are getting the full spectrum of nutrients to support you and your baby's development. Consuming whole grains, clean and lean cuts of meat, good quality fish high in omega 3, raw nuts and seeds and lots of fruits and vegetables, are all really important. Some key nutrients and foods that are needed are highlighted below.
Eat Your Fruits And Vegetables
No surprise here! We all know fruits and vegetables are healthy for us! Set yourself the goal of "eating the rainbow". Consume bright coloured fruits and vegetables of all different colours to get a variety of antioxidants, vitamins, minerals and fibre. Pregnant women should focus on fruits and vegetables, , and consume between five and 10 tennis ball-size servings of produce every day.
Folate
Folate is a naturally-occurring B-vitamin that taken or consumed before and during early pregnancy reduces the chance of having a baby with a neural tube defect or other birth defects.
Foods high in folate include:
Romaine lettuce 2 cups = 152mcg
1 cup of spinach = 262 mcg
1 cup of asparagus = 262mcg
broccoli 1 cup = 93 mcg
lentils 1 cup = 358 mcg.
Taking folate or folic acid (the man-made version of folate) daily in a dose of at least 400 mcg for at least 2 to 3 months before trying to get pregnant and while you are pregnant is generally recommended for reducing birth defects and risk of anemia (2). Folic acid and/or folate are found in prenatal supplements. Some women need higher doses, and some women don't synthesize folic acid into folate efficiently. Talk with your health professional about how much and what type of supplementation may be right for you.
Iron
You will need more iron during your pregnancy than you did before becoming pregnant. This extra iron supports the creation of additional blood in your system and supports the growth of the placenta and fetus.
Pregnant women are recommended to consume 27mg of iron a day, which is double the amount needed by women who are not expecting, according to ACOG. Getting too little iron during pregnancy can lead to anemia, a condition resulting in fatigue and an increased risk of infections. Most prenatal vitamins include iron.
There are two main types of iron, heme from meat sources and non-heme from vegetable sources. Meat sources are more easily absorbed into the body than vegetarian sources. But that doesn't mean you don't benefit from the vegetable sources!
Foods high in Iron include:
Non-heme:
spinach 1 cup = 6.4mg,
swiss chard 1 cup = 35mg
lentils 1 cup = 6.6 mg
heme sources:
3 ounces of cooked beef = 2.1mg or more
3 ounces of canned sardines, canned in oil = 2.1mg
Often iron supplementation is recommended in addition to consuming iron-rich foods. However, some iron supplements can cause an upset stomach and constipation, depending on the form of iron present. Taking iron at bedtime may decrease the chance of stomach upset, as can using a more gentle formula. The body absorbs iron best in small amounts when eaten with vitamin C, so you may want to take your iron throughout the day in lower doses. Unfortunately, taking iron supplements in the first trimester may aggravate morning sickness. If morning sickness, constipation or upset stomach are a concern for you, talk to your health care provider, as there are many forms of available that may be better tolerated.
Calcium
Calcium is needed for the development of your baby's bones. You can get enough calcium in your diet by eating or drinking a variety of foods. Pregnant women age 19 and over need 1,000 milligrams of calcium a day.
Sources of calcium include:
Swiss chard 1 cup = 101.5mg
spinach 1c up = 245mg
= 447mg
Broccoli 1 cup = 74 mg
basil 2 tsp = 63mg
Calcium-fortified soy and rice beverages, canned fish with bones (such as salmon and sardines) and cooked beans, legumes, and lentils, are all good sources of calcium as well.
The Takeaways
To help ensure a healthy pregnancy and baby ensure you're consuming approximately 300 extra calories per day from whole food sources including "eating the rainbow" of fruits and vegetables every day. Focus on consuming or supplementing with enough folate, iron and calcium.
For more information to guide you through your pregnancy journey, please schedule an appointment with Koru nutrition today.