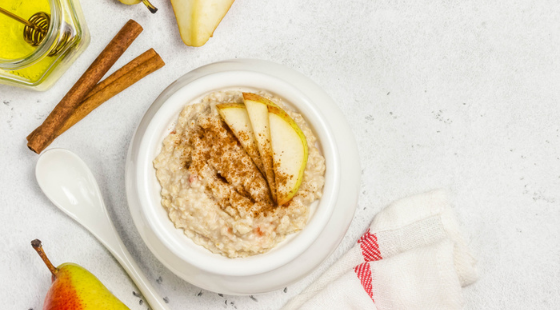 Can a bowl of porridge a day can keep the blues at bay? Well, with all the therapeutic ingredients for gut and mental health, this Pear Spice Overnight Oats recipe is a great option!
Chia seeds are loaded with good fats and are high in fiber and protein. It is important to begin your day with adequate protein and good fats because they help lift and stabilize our mood and cognitive function. Chia seeds also contain antioxidants and have anti-inflammatory effects. Plus, with the high fibre content chia seeds support a healthy gut.
Cinnamon has been shown to help balance blood sugar levels, which is important for people struggling with depression as drops in blood sugars can contribute to irritability, low mood, difficulty focusing and insomnia. One of the most important active ingredients in cinnamon is cinnamaldehyde, which is used in flavorings and fragrances and may be responsible for some of cinnamon's health benefits. Cinnamon also has antioxidant, antibiotic, and anti-inflammatory properties.
Over a period of time, oats can act as a nerve tonic, reducing stress and aiding relaxation. If you use the chunky, whole grain variety, you'll also provide your body with valuable fibre. Oats also contain loads of B vitamins, which are important to help produce neurotransmitters to support a healthy mood. Oats are a good slow-release carb on the glycaemic index (to stave off hunger and cravings) – and it's a great means of reducing cholesterol.
Tahini contains compounds that may improve brain health and decrease your risk of developing neurodegenerative diseases like dementia. Sesame seed components have been shown to protect human brain and nerve cells from free radical damage (1). Sesame seed antioxidants can cross the blood-brain barrier, meaning they can leave your bloodstream and directly affect your brain and central nervous system (2). Additionally, about 50% of the fat in tahini comes from monounsaturated fatty acids. These have anti-inflammatory properties and have been linked to a decreased risk of chronic disease such as depression.
Lastly, with the addition of plain kefir (coconut kefir is an alternative if you have a dairy sensitivity) this dish contains plenty of probiotics, aka "good bacteria" to support a diverse microbiome in our gut which in turn improves mental health.
Give it a try! Chock full of therapeutic ingredients and potential health benefits, this Pear Spice Overnight Oats recipe is easy to whip up in less than 5 minutes. That's value for your time! We hope you enjoy it as much as we do!
References
https://pubmed.ncbi.nlm.nih.gov/27353539/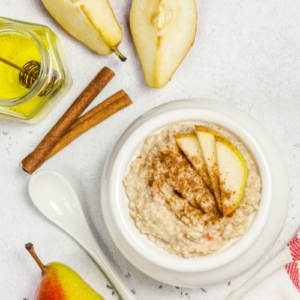 Pear Spice Overnight Oats
Ingredients
2

cups

Plain Kefir

or Coconut Yogurt

1

cup

Water

2

cups

Oats

rolled

1

tbsps

Raw Honey

1

tsp

Cinnamon

1

tsp

Ground Allspice

pinch

Cloves

2

tbsps

Chia Seed

2

Pears

sliced and divided

¼

cup

Tahini

1

tbsp

Collagen Powder

optional
Instructions
In a large bowl, combine ingredients, reserving half the pears for garnish. Cover and refrigerate overnight.

In the morning, divide into bowls or individual containers and top with the remaining pears. Sprinkle with additional cinnamon if desired. Enjoy!
Notes
Nutritional information per serving:
Calories: 416
Carbs: 56g
Fibre: 10g
Sugar: 19g
Protein: 13g
Fat: 17g