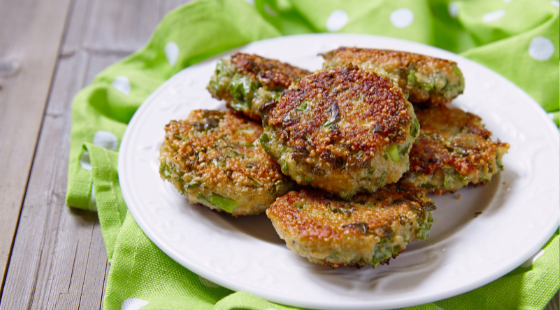 These Quinoa Kale Fritters are perfect for lunch or dinner. They are delicious served hot off skillet or frozen and reheated later in the week.
Plus, these fritters have the perfect ingredients, including kale, eggs, and quinoa to keep your thinking skills sharp!
Kale is a part of the cruciferous vegetable family which includes broccoli, spinach, and brussels sprouts. These vegetables are known as a strong support for your liver in the detoxification process, but they also contain nutrients that are important for your brain. Vitamin K is one such nutrient, which plays a role in building important fat cells in the brain. These fat cells allow your neurons to communicate with each other more effectively. (1) When our neurons can communicate effectively, we notice the difference in thinking skills such as memory, and attention!
Eggs are another brain-boosting superfood. Egg yolks are filled with choline, which is used to make the neurotransmitter acetylcholine. This neurotransmitter is known to be important during thinking tasks such as utilizing memory and attention. When choline levels are high, our brain uses it to make acetylcholine which enhances our thinking skills. (2) Studies of individual's performance on memory tests and choline levels demonstrated that higher choline levels correlated with better cognitive performance. (3)
While quinoa isn't the first ingredient that comes to mind as a brain-boosting superfood, it definitely has properties to help support brain health. Quinoa has high levels of amino acids, including tryptophan, which are used to build the neurotransmitters our brain uses to communicate. (4) Quinoa is also high in iron. Iron supports the oxygen-carrying molecules in our blood, helping oxygen reach all of the cells in our body, including brain cells, for top performance. (4)
 Ferland, G. (2012). Vitamin K and the Nervous System: An Overview of its Actions. Advances in Nutrition, 3(2), 204-212. doi: 10.3945/an.111.001784
Haddelmo, M. (2006). The Role of Acetylcholine in Learning and Memory. Current Opinon in Neurobiology, 16(6), 710-715. doi: 10.1016/j.conb.2006.09.002
Nurk, E., Refsum, H., Bjelland, I., Drevon, C., Tell, G., Ueland, P., … & Vollset, S. (2013). Plasma free choline, betaine and cognitive performance: the Hordaland Health Study. The British Journal of Nutrition, 109(3), 511-519. doi: 10.1017/S0007114512001249.
Filho, A., Pirozi, M., Borges, J., Sant'Ana, H., Chaves, J., & Coimbra, J. (2017). Quinoa: Nutritional, functional, and antinutritional aspects. Critical Reviews in Food Science and Nutrition. 57(8), 1618-1630. doi: 10.1080/10408398.2014.1001811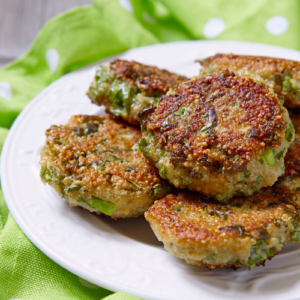 Quinoa Kale Fritters
Ingredients
½

cup

Quinoa

1

cup

Water

1

tbsp

Coconut Oil

divided

2

Eggs

whisked

½

Sweet Onion

diced

3

Garlic

cloved, minced

Sea Salt & Pepper

to taste

2

cups

Kale Leaves

⅓

cup

Oats

⅓

cup

Almond Flour

1

Avocado

peeled and sliced

1

Lemon

juiced

1

tbsp

Yellow Mustard
Instructions
Begin by cooking the quinoa. Place quinoa and water in a medium sauce pan over medium-high heat and bring to a boil. Once boiling, cover the pot with a lid and turn the heat down to low. Allow the quinoa to simmer for 12 minutes. Remove from heat, fluff with a fork and set aside.

While the quinoa is simmering, heat half the coconut oil in a frying pan over medium heat. Sauté the onion for approximately 5 minutes until it begins to caramelize and turn a golden colour. At that point, add kale and stir for1-2 minutes until just wilted. Remove from heat and set aside.

In a large mixing bowl whisk the eggs. Add quinoa, kale/onion mixture, garlic, salt and pepper to the egg mixture, stirring well to combine. Set aside and allow to cool for 15 minutes.

Add the oats and almond meal to the egg mixture. Combine well.

With clean hands, form the mixture into six even patties and place on apiece of waxed paper.

Heat the remaining coconut oil in a large skillet over medium heat. Use a flipper to transfer the fritters from the wax paper to the frying pan. Fry the fritters for approximately 6 minutes per side or until golden brown.

Serve as a side dish with a dip of your choice, as a hearty addition to a salad, or topped with your favourite burger toppings. Enjoy!
Notes
Nutrition Per 1 Serving:
Calories - 218
Sugar - 2g
Fiber - 5g
Carbs - 20g
Fat - 13g
Protein - 8g