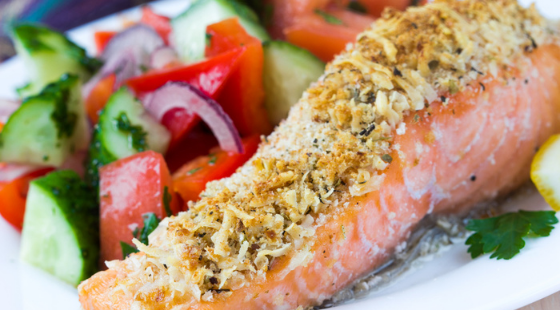 This Walnut Crusted Salmon is a simple yet delicious dish that adds flavour and texture to your typical salmon dinner.
If you're a salmon-lover already, this recipe is for you!
The main stars of this recipe, salmon and walnuts, come packed with health benefits.
While salmon is typically known to be rich in fatty acids and protein, it is also an excellent source of selenium. Selenium is an essential mineral that supports the health and function of our thyroid, a small gland located in the base of the neck. Your thyroid releases important hormones that travel through your blood and interact with cells throughout your body. Selenium works to help "activate" these thyroid hormones, which can be important for individuals with low thyroid hormone levels (1). Research shows that consuming two servings of salmon a week increased selenium levels in the blood more than fish oil capsules (2). 
Walnuts are a superfood filled with wonderful health benefits. They have been shown to have the highest antioxidant activity compared to any other nut (3). Antioxidants are a group of nutrients which prevent damage from free radicals called "oxidation". One small study showed that when adults ate a walnut-rich meal, it prevented the oxidation of specific types of cholesterol (4). When these types of cholesterol are oxidized, they are more likely to build up in your arteries, leading to blockages (4). This is important to consider for individuals with low levels of thyroid hormones, as they are more likely to have higher cholesterol levels (5).
If you are looking to prepare this recipe with a soup or salad, check out Koru's recipes for more options, including our Creamy Roasted Garlic and Kale Soup and Citrus Quinoa & Bean Salad.
References
Ventura, M., Melo, M., & Carrilho, F. (2017). Selenium and Thyroid Disease: From Pathophysiology to Treatment. International Journal of Endocrinology, 2017, 1297658. doi: 10.1155/2017/1297658
Stonehouse, W., Pauga, M., Kruger, R., Thomson, C., Wong, M., & Kruger, M. (2011). Consumption of salmon v. salmon oil capsules: effects on n-3 PUFA and selenium status. The British Journal of Nutrition. 106(8), 1231-1239. doi: 10.1017/S000711451100153X
Yin, T., Cai, L., Chen, Y., Li, Y., Wang, Y., Liu, C., & Ding, Z. (2015). Tannins and Antioxidant Activities of the Walnut (Juglans regia) Pellicle. Natural Product Communications, 10(12), 2141-2144. PMID: 26882685
Haddad, E., Gaban-Chong, N., Oda, K., &Sabate, J. (2014). Effect of a walnut meal on postprandial oxidative stress and antioxidants in healthy individuals. Nutrition Journal, 13(4). doi: 10.1186/1475-2891-13-4.
Mullur, R., Liu, Y., & Brent, G. (2014). Thyroid Hormone Regulation of Metabolism. Physiological reviews, 94(2), 355-382. doi: 10.1152/physrev.00030.2013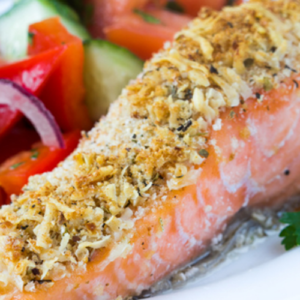 Rosemary Walnut Crusted Salmon
A simple yet delicious dish that adds flavour and texture to your typical salmon dinner. The main stars of this recipe, salmon and walnuts, come packed with health benefits.
Ingredients
¼

cup

Walnuts

very finely chopped

¼

tsp

Sea Salt

½

tsp

Ground Rosemary

1

tsp

Dijon Mustard

½

tsp

Lemon Juice

1

tsp

Extra Virgin Olive Oil

divided

2 x 4

ozs

Salmon Fillet

¼

Lemon

optional for serving, cut into wedges
Instructions
Preheat oven to 350ºF. Line a baking sheet with parchment paper or a silicon tray liner.

Combine walnuts, salt and spices. Stir in the lemon juice, half of the oil, and combine well.

Rub the remaining oil over all sides of the salmon fillets. Place the salmon on the prepared baking sheet, skin down.

Use a spoon to layer the walnut mixture on top of each fillet. Top each fillet with the walnut mixture, pressing firmly with the back of the spoon to ensure it stays in place.

Bake for 12 to 15 minutes or until the salmon is cooked through and flakey.

Serve with a lemon wedge, if using. Enjoy!
Notes
Nutritional information per serving:
Calories: 359
Carbs: 3g
Fibre: 2g
Sugar: 0.5g
Protein: 31g
Fat: 26g