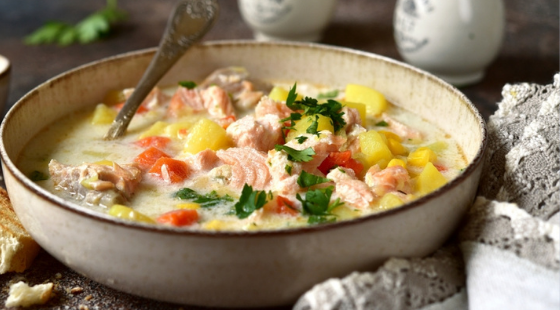 This is a beautiful rich and hearty meal that helps feed the soul and is absolutely delicious.
Another great thing about this meal is that it can also help support and promote sleep if consumed in the evening. 
The combination of omega-3 fatty acids and vitamin D in salmon has the potential to enhance sleep quality, as both have been shown to increase the production of serotonin (1,2,3). 
In one study, men who ate 5-10.5 ounces (150-300 grams) of Atlantic salmon three times a week for 6 months fell asleep about 10 minutes faster than men who ate chicken, beef, or pork. This effect was thought to be the result of vitamin D. Those in the fish group had higher levels of vitamin D, which was linked to a significant improvement in sleep quality (4).
It is important avoid high protein meals at night as this can interfere with sleep. This meal is a well proportioned mix of carbohydrates (21g), proteins (23g) and fats (24g), making it a great balanced meal and low on the glycemic index to support healthy blood sugar balance and subsequently support great sleep. 
You can store this in the fridge for up to 3 days or freeze it.
References: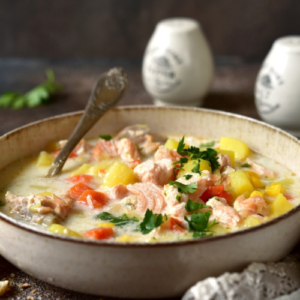 Salmon Chowder
Ingredients
2

tbsps

Coconut Oil

1

Carrot

sliced

2

cups

Celery Root

peeled and cubed

2

cups

Rutabaga

peeled and cubed

2

cups

Organic Vegetable Broth

12

oz.

Salmon Filet

1

cup

Organic Coconut Milk

¼

tsp

Granulated Garlic

¼

tsp

Ginger

¼

tsp

Sea Salt

or more to taste

¼

cup

Parsley

chopped, optional garnish
Instructions
In a large soup pot, melt the coconut oil over medium-low heat. Add the sliced carrot, celery root, and rutabaga. Cover and let cook for about 10 minutes, or until fork tender.

While the vegetables are sauteeing, skin the salmon. Discard the salmon skin. Set aside the salmon fillets.

Add the broth to the pot and bring to a low rolling boil for 5-10 minutes, until vegetables are fork tender.

Add salmon into the pot and poach the salmon for 10-15 minutes. Add a small amount of water if needed to ensure the salmon is covered with boiling liquid.

With a fork, gently flake the fish into chunks. Stir in the coconut milk, garlic and ginger. Season to taste with sea salt.

Divide into serving bowls and garnish with chopped parsley, if desired. Enjoy!
Notes
Nutritional information per serving:
Calories: 386
Carbs: 21g
Fibre: 5g
Sugar: 10g
Protein: 23g
Fat: 24g