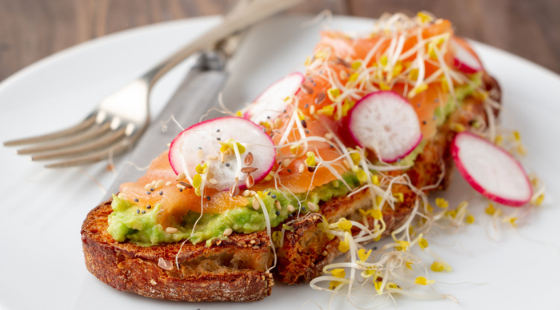 This is such a great quick and easy meal or snack that is loaded with mood boosting foods.
Salmon and avocado both contain omega 3 which has anti-inflammatory and mood enhancing benefits.
Avocado also contains B vitamins which help us to make neurotransmitters that support a healthy mind and mood. The high levels of folate in avocados may help keep depression symptoms at bay. 
That is because folate helps to prevent the build-up of homocysteine, a substance that can impair circulation and delivery of nutrients to the brain. Excess homocysteine can also interfere with the production of serotonin, dopamine, and norepinephrine, which regulate mood, sleep, and appetite.
Plus, salmon also contains Vitamin D. Vitamin D has been shown to have benefits in supporting a healthy and happy mood, but getting enough vitamins D in your diet can be a struggle for a lot of people.
Canadian researchers from the Department of Psychiatry and Behavioral Neurosciences, St Joseph's Hospital, Hamilton, reviewed 14 studies, consisting of 31,424 participants and found a strong correlation between depression and a lack of Vitamin D. The lower the Vitamin D level, the greater the chance of depression.
Although we do not know exactly how vitamin D can help with depression what we do know is that there are specific receptors in the brain for vitamin D, which means that vitamin D is acting in some way in the brain. These receptors are found in the areas of the brain that are linked to the development of depression.
The problem is getting enough Vitamin D. 32% of Canadians are clinically deficient in vitamin D (40% in winter and 25% in summer), and approximately 60% of Canadians have sub-optimal levels of vitamin D.
This recipe contains 288IU of Vitamin D, 83 uq of folate and 19 grams of good fats.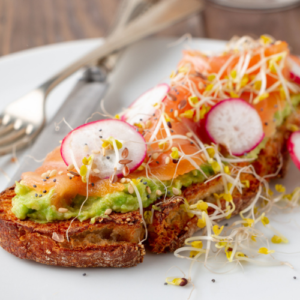 Smoked Salmon and Avocado Toast
This is such a great quick and easy meal or snack that is loaded with mood-boosting benefits.
Ingredients
1/2

avocado

½

tsp

Fresh Dill

optional

¼

tsp

Lemon Juice

1

slice

whole grain bread

toasted

1 1/2

oz

smoked salmon

cut into bite sized pieces

1-2

Radishes

thinly sliced

1

tbsp

Sprouts
Instructions
Mash the avocado and combine with the dill and lemon juice.

Spread avocado mixture onto your toast.

Top with the smoked salmon, radish and sprouts.
Notes
Nutritional information per serving:
Calories: 233
Carbs: 17g
Fibre: 7g
Sugar: 2g
Protein: 13g
Fat: 13g