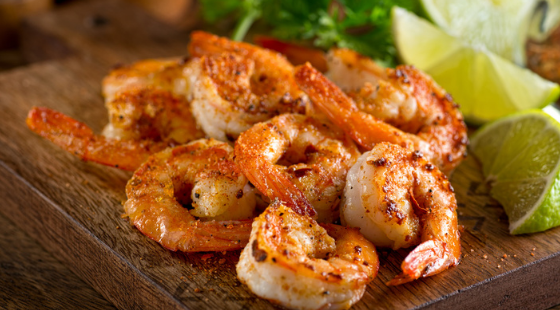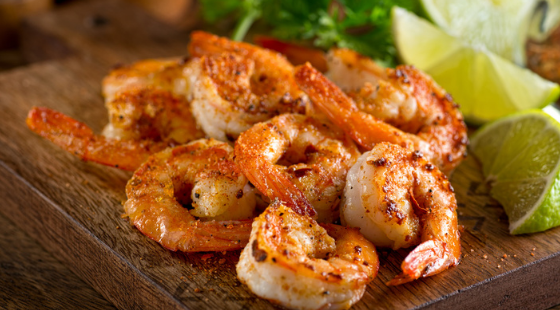 This shrimp recipe makes for a perfect snack or dinner party appetizer. Filled with bold flavours and bright colours, this shrimp recipe also has an impressive nutrition profile.
Specifically, shrimp are a wonderful support for your thyroid gland. 
The thyroid is a gland that is located near the base of your neck and is responsible for releasing a host of hormones. These hormones play an important role throughout the body. The mineral iodine and selenium contained in shrimp help support the thyroid and the release of hormones.
Shrimp is an excellent source of iodine, which is an essential mineral for the production of thyroid hormones. Studies show that individuals with iodine deficiency are at a higher risk for hypothyroidism, a condition where the thyroid does not release enough hormones (1). This makes shrimp an important consideration in thyroid health as iodine is not commonly abundant in many foods.
Shrimp is also a great source of selenium, containing almost half of the recommended daily intake in 85 grams (2). Selenium is important as it helps to "activate" thyroid hormones (3). Additionally, selenium can act as an antioxidant which has been shown to protect the thyroid from inflammation (4).
It is important to ensure that extra virgin olive oil is used to prepare this shrimp. This oil is regarded as one of the healthiest fats, which is partly due to the antioxidants it contains (5). These antioxidants provide protection from damage from free radicals, including protecting the thyroid.
When making this shrimp, add in some extra red pepper flakes for more heat if you desire!
If you like this recipe, you might love our 1-Week Thyroid-Supporting meal plan, with more recipes designed for the thyroid that the whole family will enjoy!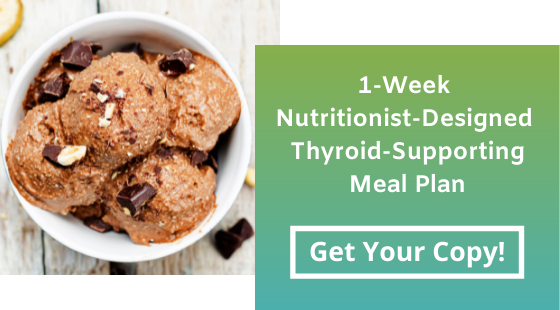 Zimmerman, M., & Boelaert, K. (2015). Iodine deficiency and thyroid disorders. The Lancet. Diabetes and Endocrinology. 3(4), 286-295. doi: 10.1016/S2213-8587(14)70225-6 
Ventura, M., Melo, M., & Carrilho, F. (2017). Selenium and Thyroid Disease: From Pathophysiology to Treatment. International Journal of Endocrinology, 2017, 1297658. doi: 10.1155/2017/1297658 
Negro, R. (2008). Selenium and thyroid autoimmunity. Biologics: Targets and Therapy. 2(2), 265-273. doi: 10.2147/btt.s2746 
Beauchamp, G., Keast, R., Morel, D., Lin, J., Pika, J., Han, Q., … & Breslin, P. (2005). Phytochemistry: ibuprofen-like activity in extra-virgin olive oil. Nature, 437(7055), 45-46. doi: 10.1038/437045a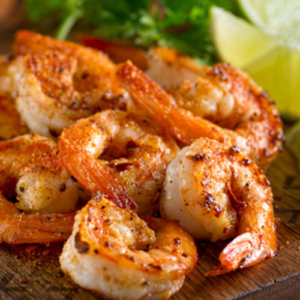 Honey Garlic Paprika Shrimp
This recipe makes for a perfect snack or appetizer. Filled with bold flavours and bright colours, this shrimp recipe also has an impressive nutrition profile.
Ingredients
1½

tbsps

Extra Virgin Olive Oil

1

tbsp

Honey

1½

tsps

Paprika

1

tsp

Granulated Garlic

¼

tsp

Sea Salt

pinch

Cayenne

optional

14

ozs

Shrimp

large, peeled and deveined

1½

tbsps

Water

1½

tsps

Lemon Juice

Ground Black Pepper

to taste (optional)
Instructions
In a large bowl, whisk together olive oil, honey, paprika, garlic, and salt. Sprinkle in cayenne, if using. Whisk again to combine.

Add the shrimp to the large bowl and toss to coat thoroughly in the marinade.

Heat a large pan or skillet over medium-high heat.

Once warmed, add the shrimp along with all of the marinade to the pan. Cook shrimp for 1 to 2 minutes per side.

Add water and lemon juice to the pan. Stir well to coat the shrimp in the marinade.

Continue cooking to allow the sauce to reduce slightly, then remove from the heat. Season with lemon juice and additional salt, to taste.

Top with freshly ground pepper and serve immediately. Enjoy!
Notes
Nutritional information per serving:
Calories: 177
Carbs: 7g
Fibre: 0g
Sugar: 5g
Protein: 23g
Fat: 6g