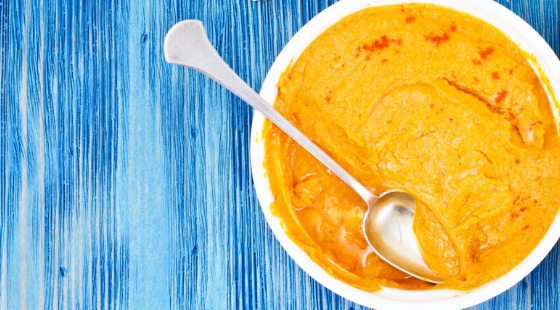 Who doesn't love a ONE-step recipe?!
Well, this tasty Turmeric Hummus recipe is just that!
Turmeric Hummus is an easy side dish, dip, spread, or addition to your next wrap or sandwich.
Chickpeas, the main ingredient in hummus, are known to pack a protein punch, but did you know they are also full of magnesium? Magnesium interacts with enzymes throughout your body to promote chemical reactions important for making proteins, releasing energy, and maintaining cardiovascular health. Magnesium's interaction with the brain has more recently been explored, and it is believed to help prevent neuron death after a brain injury! (1)
Turmeric is this recipe's secret ingredient. While adding a bold flavour to your hummus, turmeric also fills this recipe with an anti-inflammatory and antioxidant compound called curcumin. Curcumin is powerful because of its ability to cross the protective barrier that separates our brains from the rest of our bodies. Once in the brain, curcumin acts to reduce oxidative stress and neuroinflammation, helping our brain to think efficiently! (2)
This hummus also contains ingredients which work as anti-microbials. Garlic is known to support our immune system as an anti-microbial, anti-fungal, and anti-viral. Meanwhile, apple cider vinegar has also been shown to have anti-microbial properties and decreases inflammation in response to an infection. (3)
For an added touch, feel free to top with a drizzle of olive oil and a sprinkle of turmeric, paprika, or cayenne.
Erdman, J., Oria, M., & Pillsbury, L. (2011). Nutrition and Traumatic Brain Injury: Improving Acute and Subacute Outcomes in Miliiatary Personnel.  National Academies Press (US). Washington, DC.
Misra, S., & Palanivelu, K. (2008). The effect of curcumin (turmeric) on Alzheimer's Disease: An Overview, Annals of Indian Academy of Neurology, 11(1), 13-19. doi: 10.4103/0972-2327.40220
Yagniik, D., Serafin, V., & Shah, A. (2018). Antimicrobial activity of apple cider vinegar against Escherichia coli, Staphylococcus aureus and Candida albicans; downregulating cytokine and microbial protein expression. Scientific Reports, 8(1), 1732. doi: 10.1038/s41598-017-18618-x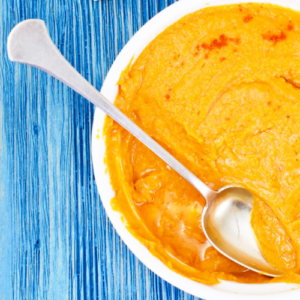 Turmeric Hummus
Who doesn't love a ONE-step recipe?! This tasty Turmeric Hummus recipe is just that, making it an easy side, dip, or addition to your next wrap or sandwich.
Ingredients
2

cups

Chickpeas

cooked

1

Garlic Clove

minced

1

tbsp

Tahini

3

tbsp

Lemon Juice

¼

cup

Extra Virgin Olive Oil

½

tsp

Turmeric

½

tsp

Salt

¼

tsp

Black Pepper
Instructions
Add ingredients to the bowl of a food processor with the S-blade. Blend until the mixture reaches a creamy consistency. You may need to scrape down the sides of the bowl periodically to ensure it processes evenly. Enjoy!
Notes
Nutritional information per serving:
Calories: 280
Carbs: 24g
Fibre: 7g
Sugar: 4g
Protein: 8g
Fat: 18g