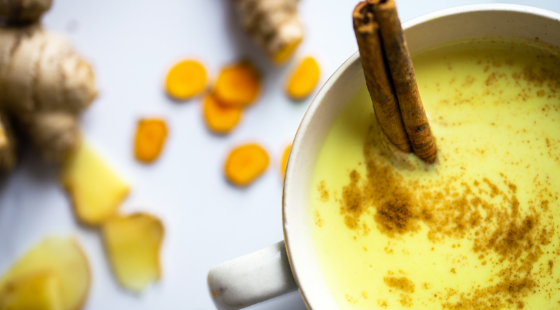 This delicious soothing latte is packed full of anti-inflammatory benefits and is a great beverage for those struggling with pain.
Turmeric is the star of this recipe! Turmeric's active component is curcumin which has shown to have anti-inflammatory and antioxidant properties.
Because of these health benefits, curcumin has been shown to help with pain with individuals with rheumatoid arthritis, and was found to be more effective than an anti-inflammatory drug. In individuals with osteoarthritis, participants reported improvement in pain, physical function, and quality of life after taking curcumin, with decreased use of pain medication. Turmeric can cross the blood brain barrier and can support healthy brain function including helping with memory, attention, and can help with health conditions such as concussion, Alzheimer's and Parkinson's disease. You can read more about the health benefits of turmeric here.
The black pepper in the recipes is very important as this helps to increase the absorption of curcumin in the body by 2000%!
Ginger is antimicrobial, it has bene shown to help manage blood sugar levels, reduce feelings of nausea, and help with pain. Studies have shown that just a single gram of ginger a day can be enough to reduce both the duration of pain and the intensity with women with menstrual cramps and osteoarthritis. The studies show that it worked just as well as other well-known remedies such as ibuprofen. If you are on a lot of pain medications this may cause stomach ulcers and research has shown ginger can be effective at helping to prevent aspirin-induced stomach ulcers by blocking the activity of the enzymes responsible. Because ginger is antimicrobial, it can also help fight off bacterial, fungal and some viral infections.
Cinnamon is a great spice to incorporate into any diet because it helps with blood sugar regulation and it also contains anti-inflammatory and antioxidant properties especially in the digestive tract which makes it a valuable digestive aid. Plus, it's delicious!
Coconut milk has a delicious creamy taste and has been shown to reduce stomach ulcer size in rats by 54% — a result comparable to the effect of an anti-ulcer drug. However, one cup of coconut milk can contain as much as 552 calories, so if weight loss if your goal then we suggest switching out coconut milk to a more low-calorie option such as almond or cashew milk, or diluting it half-and-half with water.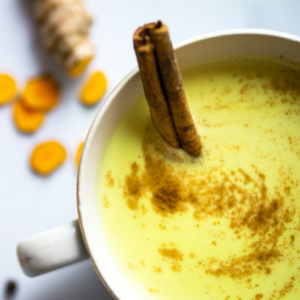 Turmeric Latte
This delicious soothing latte is packed full of anti-inflammatory benefits and is a great beverage for those struggling with pain.
Ingredients
¾

cup

Full Fat Coconut Milk

canned

¾

cup

Water

1

tsp

Ground Turmeric

¼

tsp

Ground Ginger

¼

tsp

Ground Cinnamon

1

pinch

Ground Black Pepper

2

tsp

Maple Syrup (or honey)

to taste

1

tbsp

Collagen Powder

optional
Instructions
In a small saucepan over medium heat, add all ingredients and whisk until warm. Do not allow to boil.

Remove from heat, sample, and adjust flavours if desired.

Pour into your favorite mug and enjoy!
Notes
Nutritional information per serving:
Calories - 197
Sugar - 14g
Carbs - 24g
Fat - 12.1g
Protein - 0.4g