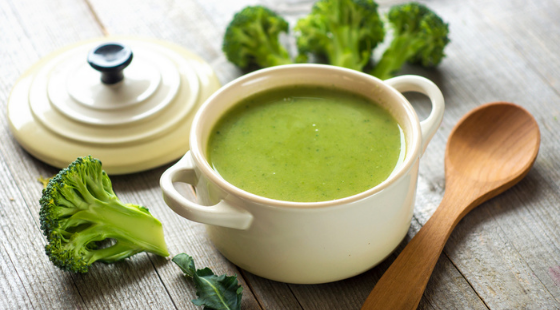 This simple and delicious soup recipe combines several powerhouse, cancer-preventative foods into one enjoyable dish!
Based on 2015 estimates nearly 1 in 2 Canadians (45% of men and 43% of women) is expected to develop cancer during their lifetime. This can be seen as a frightening statistic!
However, if we also understand that that approximately 85% of cancers are caused by environmental factors, including diet and lifestyle, we can transform that initial fear into a feeling of empowerment to improve our own individual health!
Studies have provided evidence that the sulphur compounds in garlic, onion and other foods in the allium family alter tumour development. Individuals with diets rich in garlic and onion are at a decreased risk of developing cancer, particularly cancers of the digestive tract. Garlic also contains compounds that can boost the number of immune cells present in the blood. A healthy immune system is one that can help protect us from developing cancer.
Like garlic and onion, cauliflower contains potent sulphurous compounds that help prevent cancer. Additionally, cauliflower contains indoles, including indol-3-carbinol which have been found to inhibit cancer development in many organs and organ systems such as breast, colon, liver and lung.
Dark leafy greens such as the kale found in this recipe, are high in antioxidants which can boost the body's own defences to help prevent the damage to DNA that causes cancer. Plus, kale contains plenty of fibre and consuming adequate dietary fibre is well-known to reduce the risk over several cancers including bowel cancer.
So, try it out… It's an easy side dish that's not only healthy, but sure to impress!
And if you like recipes like this one, you will LOVE our FREE 1-day Cancer Prevention Meal Plan, which is packed with 6 fantastic meals formulated to include loads of nutrients and antioxidants that may help prevent cancer. Check it out!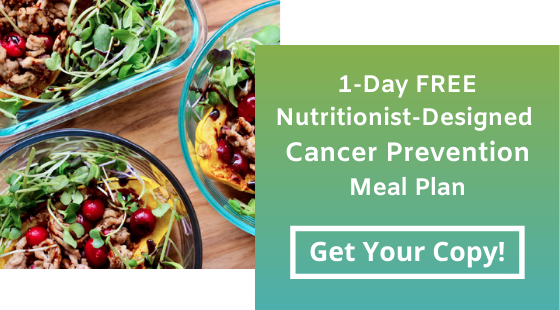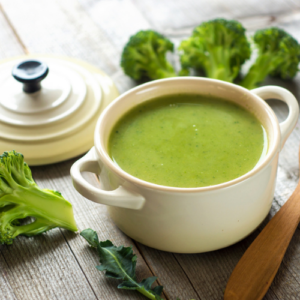 Broccoli & Greens Soup
This simple and delicious soup recipe combines several powerhouse, cancer-preventative foods into one enjoyable dish!
Ingredients
12

whole

Garlic Cloves

peeled and trimmed

1

Yellow Onion

large, roughly chopped

½

head

Cauliflower

sliced into florets

1

head

Broccoli

sliced into florets

3

tbsps

Extra Virgin Olive Oil

divided

1

tsp

Dried Parsley

1

tsp

Dried Basil

1

tsp

Dried Oregano

¼

tsp

Dried Rosemary

¼

tsp

Dried Thyme

1

tsp

Sea Salt

8

cups

Kale Leaves

packed

4

cups

Organic Vegetable Broth

divided
Instructions
Preheat oven to 400ºF. Line a baking sheet with parchment paper. Set aside.

In a large bowl, combine the garlic cloves, onion, cauliflower and broccoli.

In a small bowl, add half the olive oil and mix in spices. Pour over vegetables and toss until well coated.

Spread coated vegetables evenly on the prepared baking sheet. Roast for about 30 minutes or until very tender and caramelized, flipping halfway through.

When vegetables are nearly done, warm remaining olive oil in a large soup pot over medium heat. Add the kale and half of the vegetable broth to the pot and cover. Let cook for 2 minutes, or until kale is wilted and tender.

Add the roasted vegetables and remaining vegetable stock in with the wilted kale. Bring soup to a gentle boil then remove from heat.

Use an immersion blender or puree soup in batches in a high-speed blender with a vent until smooth and creamy.

Divide into serving bowls and enjoy!
Notes
Nutritional information per serving:
Calories: 204
Carbs: 22g
Fibre: 7g
Sugar: 7g
Protein: 8g
Fat: 12g