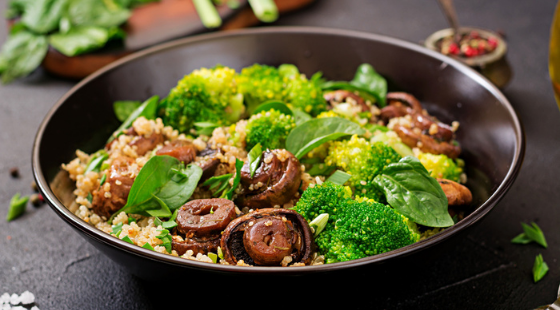 This recipe, inspired by your typical fried rice dish, takes things up a notch! This recipes combines whole grain quinoa with nutritious vegetables, oils, and herbs. A quick dish like this can be the meal's main focus or a flavourful side dish. Either way it is packed with anti-inflammatory foods important for keeping our bodies healthy.
Mushrooms have been used in medicine for centuries. More recently, research into to the compounds contained in mushrooms are revealing their anti-inflammatory properties. Mushrooms contain a number of metabolites, including polysaccharides, terpenoids, peptides, and phenolics, which exhibit anti-inflammatory properties. It is believed that these metabolites reduce the number of messengers in our body that initiate an inflammatory response. (1)
Broccoli is a nutrient-rich vegetable, which also helps our body reduce inflammation. Sulforaphane is one compound within broccoli that is responsible for its anti-inflammatory properties. Research has shown that this compound limits the production of molecules important in the pathway that drives inflammation. (2)
This recipe uses avocado oil to prepare the vegetables. Avocados have recently become known as a superfood, in part, due to their anti-inflammatory properties. Avocados have been shown to modulate the human inflammatory response by blocking activation of key molecules in this process. (3) Additionally, avocados have high levels of carotenoids, a group of pigment molecules, which research shows are reduce inflammation and lower cancer risk. (4)
Lastly, garlic is a widespread favourite spice, adding wonderful flavours and aromas to dishes. Garlic is also associated with reduced inflammation! Research demonstrated that individuals who took garlic supplements showed significantly lower levels of inflammations markers in their blood. (5)
Elsayed, E., Enshasy, H., Wadaan, M., & Aziz, R. (2014). Mushrooms: A potential Natural Source of Anti-Inflammatory Compounds for Medical Applications. Mediators of Inflammation, 2014. doi: 10.1155/2014/805841
Hwang, J., & Lim, S. (2014). Antioxidant and Anti-inflammatory Activities of Broccoli Florets in LPS-stimulated RAW 264.7 Cells. Preventative Nutrition and Food Science, 19(2), 89-97. doi: 10.3746/pnf.2014.19.2.089
Donnarumma, G., Paoletti, I., Buommino, E., Fusco, A., Baudouin, C., Msika, P., … & Baroni, A. (2011). AV119, a natural sugar from avocado gratissima, modulates the LPS-induced proinflammatory response in human keratinocytes. Inflammation, 34(6), 568-575. doi: 10.1007/s10753-010-9264-6.
Key, T., Appleby, P., Travis, R., Albanes, D., Alberg, A., Barricarte, A., … & Allen, N. (2015). American Journal of Clinical Nutrition. 102(5), 1142-1157. doi: 10.3945/ajcn.115.114306
Mirzavandi, F., Mollahosseini, M., Salehi-Abargouei, A., Makiabadi, E., & Mozaffari-Khosravi, H. (2020). Eeffects of garlic supplementation on serum inflammatory markers: A systematic review and meta-analysis of randomized controlled trials. Diabetes and Metabolic Syndrome, 14(5), 1153-1161. doi: 10.1016/j.dsx.2020.06.031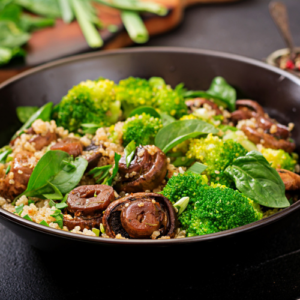 Broccoli & Mushroom Fried Quinoa
This recipe, inspired by your typical fried rice dish, takes things up a notch! This recipes combines whole grain quinoa with nutritious vegetables, oils, and herbs.
Ingredients
2

cups

Quinoa

cooked

2

cups

Broccoli

chopped into small florets

1

tbsp

Avocado Oil

2

cups

Mushrooms

sliced

1

cup

Baby Spinach

1

Garlic

clove, minced

1

tbsp

Coconut Aminos

1

tbsp

Onion Powder

1

tsp

Sea Salt

3

stalks

Green Onion

chopped
Instructions
Cook quinoa according to package directions.

Once you have removed quinoa from heat, begin cooking the vegetables. Over medium heat, in a large pan, warm avocado oil. Once the oil is warmed, add in the mushrooms and garlic. Cook for 10 minutes, stirring occasionally.

Add the broccoli florets, stirring to combine.

Add in the coconut aminos, almonds, onion powder and sea salt. Reduce heat, cover and continue cooking for approximately 2 minutes, until broccoli is bright green.

Add quinoa to pan. Stir to combine. Allow to fry approximately 2 more minutes.

Remove from heat and add spinach. Stir to combine.

Garnish with green onions. Divide onto plates and enjoy!
Notes
Nutritional information per serving:
Calories: 205
Carbs: 32g
Fibre: 7g
Sugar: 5g
Protein: 8g
Fat: 6g