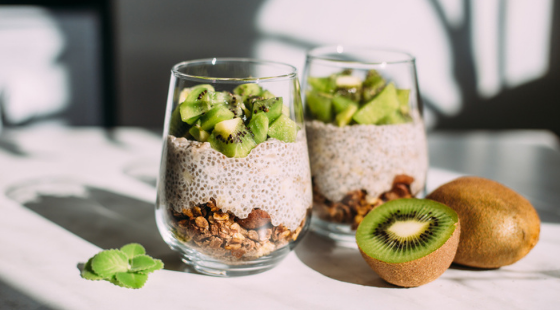 This Chia Oats with Kiwi can not only be a great breakfast, but also a great dessert, or bedtime snack to promote healthy sleep.
This is a great recipe to meal prep in advance. If you aren't yet convinced, another bonus is… it only takes 10 minutes to make! This recipe is easy and delicious.
Believe it or not kiwis can help with sleep. In a 4-week study, 24 adults consumed two kiwifruits one hour before going to bed each night. At the end of the study, participants fell asleep 42% more quickly than when they didn't eat the fruit before bedtime. Additionally, their ability to sleep through the night without waking improved by 5%, while their total sleep time increased by 13% (1).
The sleep-promoting effects of kiwis might be attributed to serotonin. Serotonin is a brain chemical that helps regulate your sleep cycle (1,2,3). It has also been suggested that the anti-inflammatory antioxidants in kiwis, such as vitamin C and carotenoids, may also be partly responsible for their sleep-promoting effects (1,4).
Chia seeds for their little size chia seeds pack a big nutritional punch. A one-ounce (28 grams) serving of chia seeds contains: 11 grams of fibre, 4 grams of protein and 9 grams of fat 5 of which are those healthy anti-inflammatory omega 3's. They are loaded with antioxidants to help neutralize free radicals. It also contains 18% of RDI for calcium and 30% of RDI for magnesium which are also important minerals to reduce anxiety, stress and promote sleep. The word "chia" is the ancient Mayan word for "strength."
Oatmeal is high in fibre and has been reported to induce drowsiness when consumed before bed. Additionally, oats are a known source of melatonin (5).
Refrigerate in an airtight container for up to four days. For best results, reheat with additional liquid over the stove or in the microwave.
References: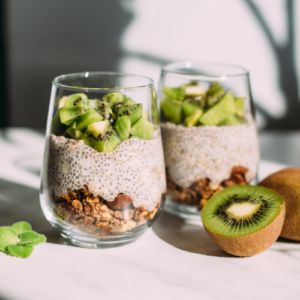 Chia Oats Parfait With Kiwi
This Chia Oats with Kiwi can not only be a great breakfast, but also a great dessert, or bedtime snack to promote healthy sleep.
Ingredients
1

cup

Almond Milk

½

cup

Chia Seeds

1

cup

Oats

rolled

½

cup

Almonds

chopped

1

tsp

Cinnamon

1

tbsp

Maple Syrup

2

Kiwi

chopped
Instructions
Combine almond milk and chia seeds in a mason jar, or a bowl, cover and refrigerate a few hours or overnight.

In a dry pan, over medium heat, add oats and almonds. Stir frequently until fragrant, approximately 5-7 minutes. Add cinnamon and maple syrup, and stir for another 1-2 minutes. This step can be made ahead, or in the morning. If making ahead, allow to cool, then store covered at room temperature.

In serving dish, layer the granola, chia pudding, then top with kiwi. Enjoy!
Notes
Nutritional information per serving:
Calories: 312
Carbs: 35g
Fibre: 12g
Sugar: 8g
Protein: 10g
Fat: 16g