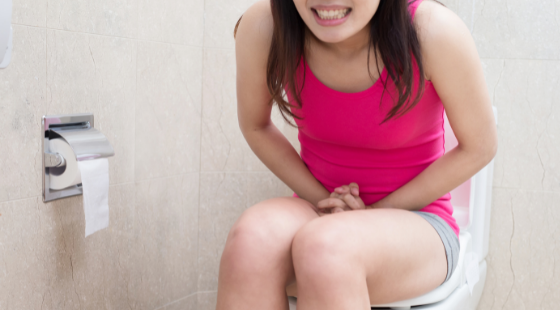 Don't you just hate it when things get backed up? You can feel bloated, uncomfortable and trying to move things out can be downright painful!
Constipation is a common problem for a lot of people and for a lot of different reasons. In fact, constipation affects approximately 16% of adults worldwide (1). But you don't need to struggle with this! We are here to help provide you with strategies to help "unclog the pipes".
Constipation is characterized by the following symptoms (3):
fewer than three bowel movements per week
hard, dry, or lumpy stools
difficulty or pain when passing stools
a feeling that not all stool has passed
There are many reasons people experience constipation.
Almost half of pregnant women report having constipation as a result of higher levels of progesterone.
Women can also experience constipation as part of their menstrual cycle.
Not consuming enough fibre and water can contribute to constipation.
Taking medications such as pain meds can really impact bowel motions.
Lack of exercise can also contribute to constipation as movement with the body helps with passage of the stool through the intestine.
If a person often "holds it in" to avoid going, this can also cause stools to get backed up and contribute to constipation. This can be a common problem with kids.
What Can I Do To Help Stop Constipation?
Top 7 Nutrition Strategies To Help Relieve Your Constipation:
1. Consume Adequate Fibre To Bulk Things Up
There are two types of dietary fiber, soluble and insoluble. Both types of fiber have a role in treating and preventing constipation. Both types of fiber are also essential for keeping your intestinal system running smoothly. Soluble fiber draws water and therefore retains more water within in your stool, making waste larger and softer, resulting in easier to pass bowel movements. Insoluble fiber adds bulk to your fecal material, speeding up the transit time through your gut and preventing that heavy constipated feeling.
Fruits and vegetables, whole grains and legumes are all healthy sources of fiber. If you still feel you struggle to get enough fibre from food, fiber supplements are also available. In fact, one 2016 review found that 77% of people with chronic constipation benefited from supplementing with fiber (4).
Remember, when increasing fiber intake, do so slowly. Increasing fibre intake too quickly, might overwhelm the digestive tract and make constipation or abdominal pain worse.
Canadian guidelines for minimum fiber intake is as follows:
 Males

9-13 y

14-18 y

19-30 y

31-50 y

51-70 y

>70 y

Recommended Fibre Intake (g)

31

38

38

38

30

30

Recommended Water Intake (L)

2.4

3.3

3.7

3.7

3.7

3.7

Females

9-13 y

14-18 y

19-30 y

31-50 y

51-70 y

>70 y

26

26

25

25

21

21

2.1

2.3

2.7

2.7

2.7

2.7
2. Drink Water To Get Things Flowing:
To help your stools move through your digestive tract, taking in an adequate amount of fluid is very important. Often, we are just not drinking enough! Nearly ¾ North Americans are chronically dehydrated despite the vast majority of us having easy access to safe drinking water on demand.
Health Canada recommends on average 2.7 liters for women a day and 3.7 liters for males a day. However, if you are a larger person, live an active lifestyle, or are pregnant or breastfeeding, you are likely to need even more than this.
If you don't like water, try infusing it with fruit, vegetables, or herbs. Freshly squeezed lemon juice can be great to help stimulate digestive processes. Plus, using a water bottle is helpful as you can carry this with you, and because it can hold more water it means less trips to the fridge to fill it up.
Increasing water intake when increasing fiber intake is critical, as both work closely together to help get the bowels working optimally.
3. Drink Herbal Teas To Help Ease Constipation Symptoms
Certain herbal teas can not only help make it easier to consume adequate water intake, but may also help to aid in some of those uncomfortable feelings that come with constipation and digestion problems. Soothing teas include peppermint tea, fennel tea, ginger and green tea. Dandelion tea, as well, may help with mild digestive symptoms such as bloating or occasional constipation. In fact, dandelion can stimulate the liver to produce bile, which can indirectly help with constipation.
4. Your Morning Coffee Can Help Promote A Regular Morning Bowel Movement 
You will be pleased to know that coffee can have a great effect on your bowel routine. One reason is that coffee contains small amounts of soluble fibers that help prevent constipation. But the real powerhouse component is the caffeine. Caffeine is a stimulant and so it causes the intestinal muscles to begin contractions called peristalsis, which is a sort of pulsing, squeezing action that moves fecal matter through the intestines.
One study found that caffeinated coffee can stimulate a bowel motion. This effect was 60% stronger than drinking water and 23% stronger than drinking decaffeinated coffee (5).
5. Fermented Foods Feed Good Bacteria
Our gut is basically a huge ecosystem of living organisms known as our microflora or microbiome. The good bacteria in our gut is crucial for ensuring bowel regularity. Fermented foods include yoghurt, kefir, miso, kombucha, sauerkraut and kimchi. If you don't like fermented foods, then taking a probiotic with over 10 billion cultures can be another way to get your good bacteria levels up in your body.
One study in 150 people with IBS revealed that supplementing with probiotics for 60 days helped improve bowel regularity and stool consistency (2). A 2019 review found that taking probiotics for 2 weeks can help treat constipation, increasing stool frequency and stool consistency (6).
6. Eat Small, More Regular Meals Throughout The Day
We all have the gastrocolic reflex which is stimulated every time we eat. Its role is to help move food and fecal matter through our intestines. If we eat regularly this reflex gets activated more regularly and therefore more movement is occurring in our intestines to help push fecal matter through our systems.
7. The Low-FODMAP Diet Can Help To Relieve Constipation And Other Digestive Problems
The low-FODMAP diet is a diet that was developed in Australia, specifically for people with IBS. It has been shown to help with numerous IBS-like symptoms including bloating, abdominal pains, nausea and constipation (7).
The low-FODMAP diet is focused on reducing intake of specific types of carbohydrates, so involves restricting a lot of otherwise healthy fruits, vegetables, grain and legumes. But, FODMAPs can be hard for the digestive system to breakdown, which causes fermentation in the gut, and with that multiple digestive problems can follow for sensitive individuals.
For more information on the low-FODMAP diet, please check out our recent article or download our 1-Week Low-FODMAP Meal Plan.
Summary
Remember, there can be a number of reasons why you might be experiencing constipation. Try drinking more water, herbal teas and coffee, and incorporating fermented foods into your diet, along with regular exercise, and consuming more fruits and vegetables. These can all be great ways to help receive your constipation!
If these don't work, please check with your health professional to determine if there are other underlying health conditions or diseases, or to discuss if implementing the low-FODMAP diet is an option for you.
And as always, we're here to help! Book a session today and let us help you on helping your pipes run smoothly and regularly.
References
1. https://www.ncbi.nlm.nih.gov/pmc/articles/PMC5976340/
2. https://www.ncbi.nlm.nih.gov/pmc/articles/PMC4993960/
3. The National Institute of Diabetes, Digestive and kidney Diseases
4. https://onlinelibrary.wiley.com/doi/full/10.1111/apt.13662
5. https://pubmed.ncbi.nlm.nih.gov/9581985/
6. https://www.ncbi.nlm.nih.gov/pmc/articles/PMC6379309/
7. https://onlinelibrary.wiley.com/doi/full/10.1111/jhn.12385
8. https://pubmed.ncbi.nlm.nih.gov/24090144/
9. https://onlinelibrary.wiley.com/doi/full/10.1111/apt.12913