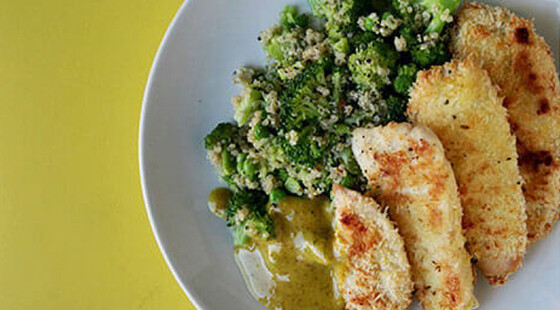 As you may have seen us post over on Facebook or Instagram, studies show a significant decrease is autistic traits in children following a gluten and dairy-free diet. Many children with autism are also picky eaters, which can make following a gluten and dairy-free diet challenging for caregivers.
Below, we're sharing a new take on a classic favourite! Whether you're transitioning to a gluten and dairy-free diet or not, these Crispy Coconut Chicken Fingers with Honey Mustard dipping sauce are a nutritious dinner option fit for the whole family!
12 ingredients · 45 minutes · 6 servings
Ingredients
1 lb Chicken Breast (sliced into strips)
1 cup Unsweetened Coconut Flakes
1 Egg (whisked)
1/4 cup Almond Flour
1 cup Broccoli (cut into florets)
1/2 cup Quinoa (uncooked)
1 cup Water
1 cup Frozen Peas
1 tbsp Coconut Oil (melted)
1/4 cup Yellow Mustard
1 tbsp Raw Honey
Sea Salt & Black Pepper (to taste)
Directions
Preheat oven to 400ºF (204ºC). Slice raw chicken breasts into long strips. Sprinkle each side with flour and dip in whisked egg. Then sprinkle both sides with shredded coconut. Line chicken fingers on a foil-lined baking sheet and bake for 24 minutes, flipping halfway
through.
While your chicken cooks, place quinoa in a saucepan with the water. Bring to a boil over high heat. Reduce heat to a simmer and cover. Let simmer for 12 minutes. When finished, remove from heat and fluff with fork.
Lightly steam broccoli and coarsely chop with a knife. In a large bowl, mix together quinoa, broccoli, peas and coconut oil. Season with a bit of salt and pepper and mix well.
To make your dipping sauce, combine mustard and honey in a small bowl and stir well.
Plate chicken fingers with quinoa mix and serve with honey-mustard dipping sauce on the side. Enjoy!
Nutritional Information
Amount per serving:
Calories – 326
Carbs – 21g
Fiber – 5g
Sugars – 5g
Protein – 24g
Fat – 17g
Notes
Leftovers
Refrigerate in an airtight container for up to three days. For best results, reheat in the oven.
Serving Size
One serving is approximately two chicken fingers.
Koru Nutrition
info@korunutrition.com