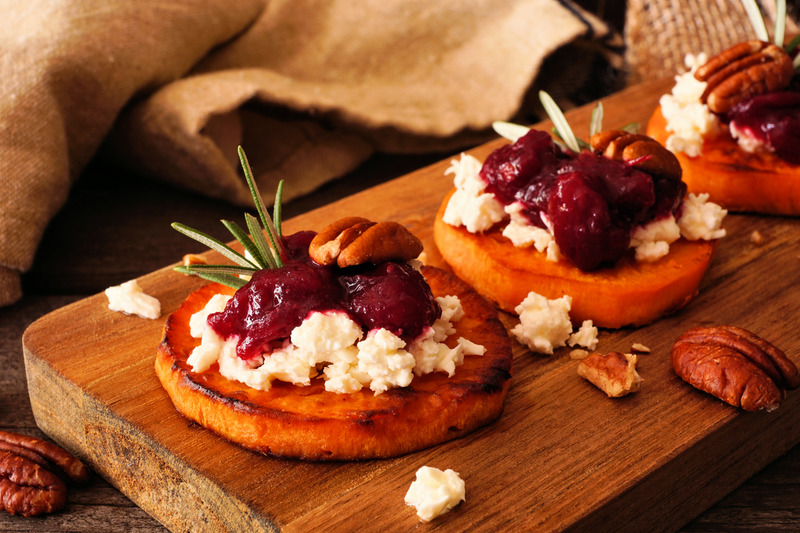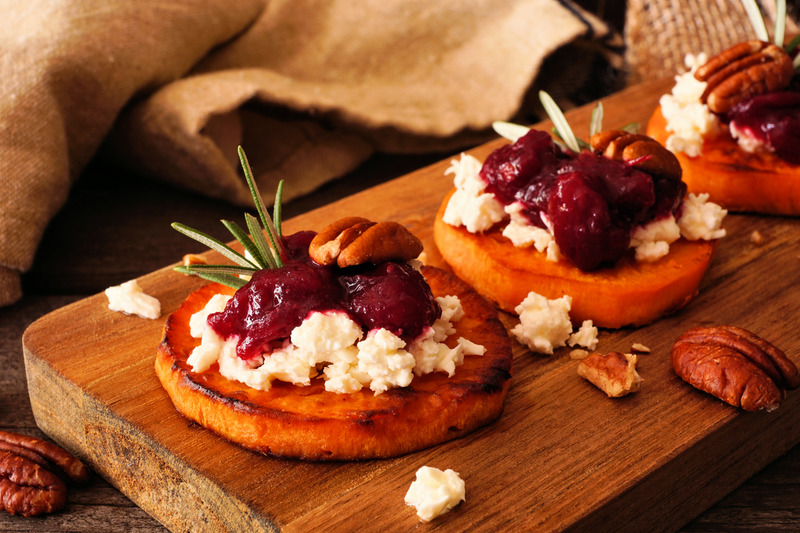 'Tis the season to indulge in festive flavors and share the joy of the holidays with family and friends. As you prepare for Christmas gatherings, don't overlook the importance of delightful appetizers to kickstart the celebration. You can still be festive and fancy with healthy foods and avoid the carb heavy, sugar rich, fat loaded appetizers. Elevate your holiday entertaining with these mouthwatering visually appealing Christmas appetizers that are sure to leave a lasting impression on your guests with out requiring your pants to be loosened.
1. Shrimp Cocktail Christmas Trees: Ingredients: Large shrimp, cocktail sauce, and fresh rosemary
sprigs.
Take the classic shrimp cocktail to the next level by presenting it in the form of a festive Christmas tree. Arrange cooked shrimp on a platter in the shape of a tree, using fresh rosemary sprigs as branches. Serve with tangy cocktail sauce for a visually stunning and delicious appetizer.
2. Cranberry and Goat Cheese Crostini: Ingredients: pumpernickel or rye bread, goat cheese,
cranberry sauce, and fresh thyme and more.
Craft an elegant and flavorful appetizer by using creamy goat cheese and switch out the typical refined white baguettes and use toasted pumpernickel or rye bread. Top them with a spoonful of cranberry sauce. Garnish with fresh thyme for a burst of holiday color and taste. You could do other flavours such as strawberries and mint, grilled portobello mushrooms and thyme, grilled peppers and parsley, smoked salmon and dill or avocado and cilantro. Your tray will be colorful, flavourful and a great way to sneak in those vegetables when they are least expecting it.
3. Caprese Skewers with a Twist: Ingredients: Cherry tomatoes, fresh mozzarella balls, basil leaves,
balsamic glaze.
Give the classic Caprese salad a festive twist by threading cherry tomatoes, fresh mozzarella balls, and basil leaves onto skewers. Drizzle with balsamic glaze for a pop of flavor and a visually appealing appetizer that's easy to enjoy.
4. Cheese and vegetable platter: Chesses, vegetables (carrots, broccoli, grape tomatoes, peppers),
olives, hummus, Tzatziki, cut up fruit.
This can be a great way to get your healthy foods out there when trying to look fancy indulgent. Create a cheese platter but keep the cheese to a minimum and focus on fresh, cut up vegetables and berries for a great pop of colours. Use hummus and tzatziki as healthy dips. You can even arrange your vegetables in the shape of a Christmas tree and use the other vegetables as Christmas decorations. Don't forget to add in olives for those good fats and you can even cut up cucumbers to use as a "cracker base" as a healthy alternative to crackers and breads.
Conclusion:
This Christmas, set the stage for a memorable celebration with appetizers that are as visually stunning as they are delicious and healthy. From the classic elegance of Cranberry, and goat cheese crostini to the playful presentation of Shrimp Cocktail Christmas Trees, these appetizers will add a touch of magic to your holiday festivities.