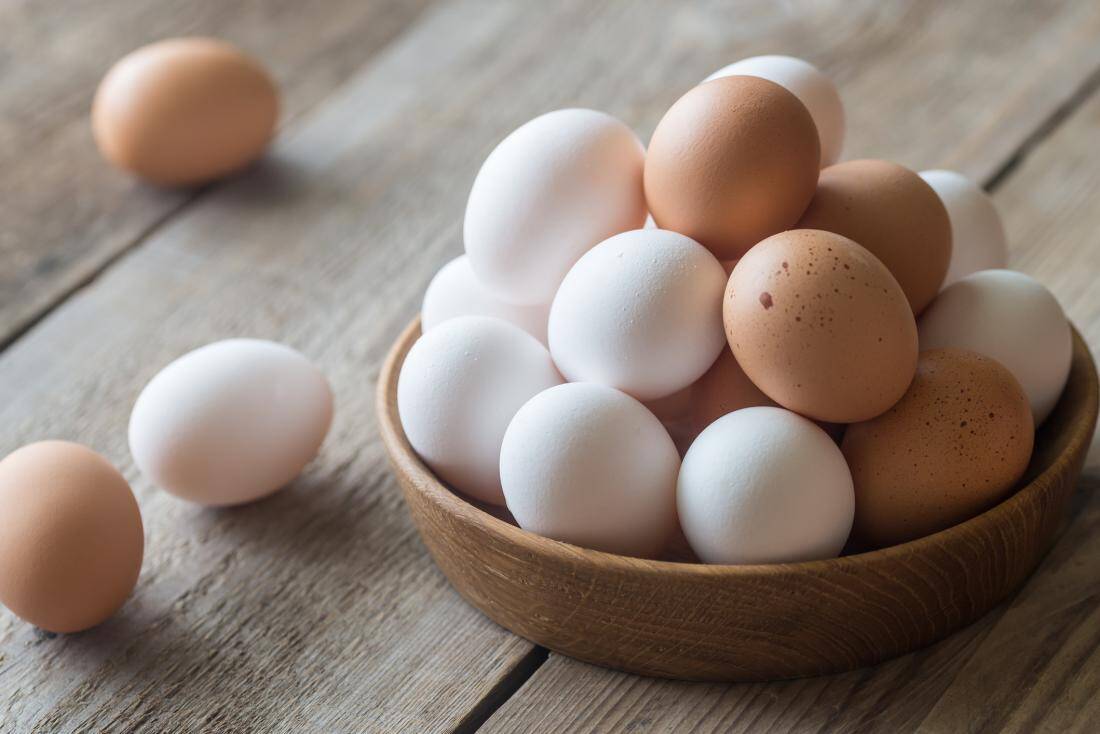 Eggs are not only delicious, but are extremely nutritious. They are easy to digest, inexpensive, and suitable for every meal, but they also have impressive health credentials. Eggs contain the highest biological value for protein and offer all nine essential amino acids that cannot be made by humans and therefore must come from our diets.
A single large boiled egg contains:
77 calories, 6 grams of protein, and 5 grams of healthy fats
Vitamin A: 6% of the RDA
Folate: 5% of the RDA
Vitamin B5: 7% of the RDA
Vitamin B12: 9% of the RDA
Vitamin B2: 15% of the RDA
Phosphorus: 9% of the RDA
Selenium: 22% of the RDA
Eggs also contain vitamin D, vitamin E, vitamin K, vitamin B6, calcium and zinc (i)
How to Buy Eggs
Shell colour depends on the breed of the chicken and has very little to do with nutritional content of an egg. However, a hen's diet and environment can affect an egg's nutrition. Eggs from hens that were raised on pasture and/or fed omega-3 enriched feeds tend to be much higher in omega-3 fatty acids. Omega-3 fatty acids positively impact many aspects of our physical and mental health and are known to reduce blood levels of triglycerides (ii). Some of the more common labels you may see on egg cartons include:
Cage-free eggs
The term "cage-free" may be misleading. It means hens are not confined to cages, but conditions are often still very crowded, with no access to the outdoors. As well, there are no assurances about what they are fed or what kinds of medications they are given.
Free-Range eggs
"Free-range" means hens have some form of continuous access to the outdoors.
Organic eggs
Organic eggs are certified and are from chickens given only organic feed without growth hormones or antibiotics. They must also have year-round access to the outdoors. A certified organic hens' quality of life is better and contain higher levels of vitamin D since they are exposed to sunlight.
Benefits of Eggs
Eggs rank high on the Satiety Index scale which means they may help you feel fuller for longer, mainly because of their high protein content. Foods high in protein have been known to reduce appetite, and increase fullness, compared to foods that contain less protein (iii).
Eggs are an excellent source of choline which plays an important part in many body functions including cell structure, metabolism, DNA synthesis, muscle movement, brain development and memory (iv).
Egg yolks contain large amounts of lutein and zeaxanthin which are very important for eye health and can help prevent macular degeneration and cataracts (v).
But what about cholesterol?
After years of being vilified for their high cholesterol content, overwhelming scientific evidence now suggests dietary cholesterol has little, if any impact on blood-cholesterol levels and that saturated and trans fat are the bigger culprits when it comes to raising blood cholesterol levels. As eggs are low in saturated fats, one egg per day been shown to be safe (vi) (vii). So feel free to enjoy eggs as part of a healthy, fibre rich diet which includes plenty of fruits and vegetables.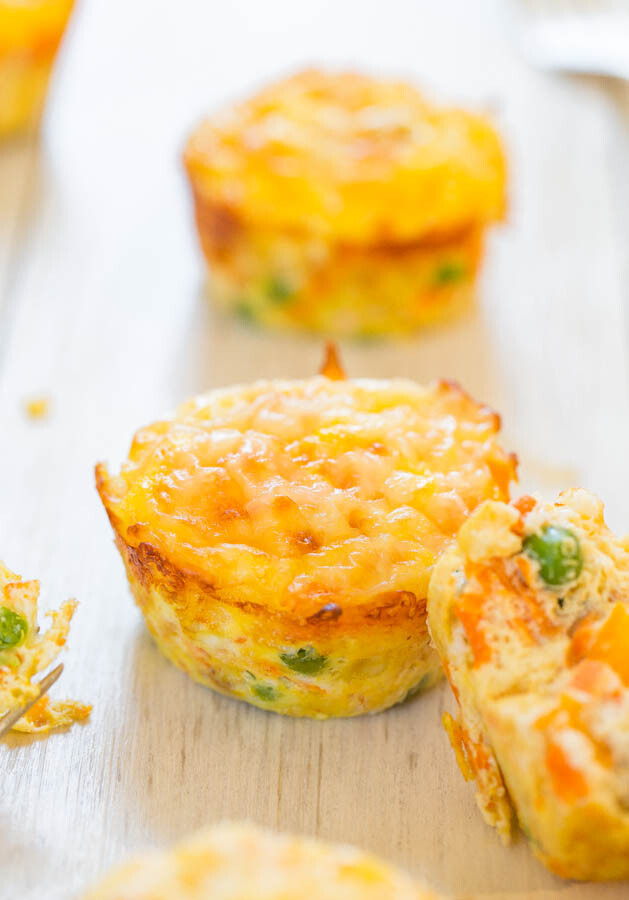 Start your day off right with these grain-free egg muffin cups.They can easily be made in advance – perfect for busy mornings or as grab and go snacks.
CHEESY EGG MUFFINS RECIPE
Ingredients
4 large eggs
2 tablespoons of full fat Greek yogurt
Kosher salt
3 tablespoons coconut flour
¼ teaspoon baking powder
½ cup of shredded Cheddar cheese
Freshly ground black pepper
1-2 Tablespoons chopped fresh chives or herbs of choice (optional)
Instructions
Preheat oven to 375 F. Line a muffin tray with parchment cupcake liners.
In a medium sized bowl, whisk together eggs, yogurt, black pepper, and a dash of salt until blended.
Add the coconut flour and baking powder and mix the batter until smooth.
Mix in the cheese and fresh herbs (if using).
Divide the batter into the 6 prepared muffin cups.
Bake for approximately 20 minutes, rotating the tray halfway though the cooking time. (The tops of the muffins should spring back when you poke them with your finger.)
Recipe adapted from nomnompaleo.com
[su_spacer]
References:
ii. Effects of omega-3 fatty acids on serum markers of cardiovascular disease risk: A systematic review
Balk, Ethan M. et al. Atherosclerosis , Volume 189 , Issue 1 , 19 – 30
iii. High protein diets and weight control. Clifton, P. Nutrition, Metabolism and Cardiovascular Diseases , Volume 19 , Issue 6 379 – 382
iv. J Inherit Metab Dis. 2011 Feb;34(1):3-15. doi: 10.1007/s10545-010-9088-4. Epub 2010 May 6. Choline and betaine in health and disease. Ueland PM1
v. Effect of Lutein and Zeaxanthin on Macular Pigment and Visual Function in Patients with Early Age-related Macular Degeneration Ma, Le et al. Ophthalmology , Volume 119 , Issue 11 , 2290 – 2297
vi. Rong Ying, Chen Li, Zhu Tingting, Song Yadong, YuMiao, Shan Zhilei et al. Egg consumption and risk of coronary heart disease and stroke: dose-response meta-analysis of prospective cohort studies BMJ 2013; 346 :e8539
vii. Jyrki K Virtanen et al; Associations of egg and cholesterol intakes with carotid intima-media thickness and risk of incident coronary artery disease according to apolipoprotein E phenotype in men: the Kuopio Ischaemic Heart Disease Risk Factor Study, The American Journal of Clinical Nutrition, Volume 103, Issue 3, 1 March 2016, Pages 895–901
[su_spacer]
For more information please contact us at:
[email protected] or call us 1855 385 5678 ex 801
To make a referral, please complete our online referral form