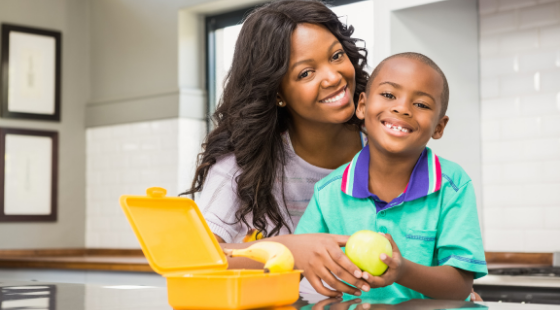 It has been a long time since our kids were at school and going back to school this year will not be the typical back-to-school experience. With staggered classes, online learning, COVID-19 looming, as well as kids adjusting to a "new normal" after 6 months off, it's making for a stressful time. 
But putting lunches together should not be stressful! At Koru Nutrition we want to make sure you have the tools and some lunch ideas to help give your child a solid nutritional foundation, whether they are learning from school or at home. Healthy lunches are not only conducive to optimizing their learning experience, but also help to support healthy immune systems! 
Lunch Box Goals
#1. Eat the Rainbow
Health Canada recommends that children 11 and under should be consuming 5 servings of fruit and vegetables daily. If your children are 12 to 13 years, they require 6 servings of fruits and vegetables daily, and for teens 14+ females require at least 7 servings of fruits and vegetables daily and males 14+ need 8 servings of fruits and vegetable a day. 
Canadian Community Health Survey (CCHS) indicates that approximately 70% of children aged four to eight years, and 65% aged nine to 13 years, do not consume the recommended minimum five servings of fruits and vegetables daily (11). Fruits and vegetables contain fiber to help regulate the bowels and support a healthy gut flora. They contain a variety of vitamins, minerals, antioxidants, phytonutrients to support brain health, mood, and immune system. So, it is vital that we ensure our kids are getting these foods into their diet—ideally at every meal!
If your kids don't like vegetables, it is amazing where you can hide them. Check out these "Green Monster Muffins".
Goal: Incorporate at least one fruit and one vegetable into your child's lunch box each day.
#2. Choose Healthy Carbohydrates
It's important to avoid the temptation of putting sugar-laden processed treats into our child's lunch box. Your kid might be happy in the moment, but you are not doing them any favours with their ability to remain focused, learn and maintain a stable mood throughout the day. Blood sugar imbalances can occur leading to behavioural and emotional challenges both during school hours and after school, which can make it tough on everyone.
Complex carbohydrates not only include the fruits and vegetables above, but they also include whole grains, legumes and lentils. Some healthy options include roasted chickpeas, a whole grain sandwich or wrap, whole grain muffin sweetened with apple sauce (not sugar), left over dinner of brown rice or whole grain pasta, brown or basmati rice (not white rice), or vegetable chilli in a thermos. You can even make some healthy sweet treats from these ingredients such as black bean brownies or chickpea blondies. Complex carbohydrates will help fuel your child's brain during the day.
Goal: Incorporate 1-2 complex carbohydrates into your child's lunch box.
#3. Don't Forget Good Fats
We can't emphasize enough the importance of healthy fats in your child's diet and avoiding the bad fats, such as saturated fats and trans fats, because these bad fats can displace the good fats from your child's brain. Healthy fats make up 60% of your brain and are critical to support healthy brain function. Research shows that good fats such as omega-3 can help boost memory and cognition and help support a healthy mood. Healthy fats include raw nuts and seeds, nut/seed butters, eggs, coconut oil, ketogenic recipe snacks, raw energy balls, avocado, and olives, although you may need to avoid nut-based products on days your child is at school. The standard western diet does not tend to provide enough healthy fats for our health, but we can change this!
Goal: Incorporate at least one healthy fat into your child's lunch.
#4. Eat Clean & Lean Protein Sources
Protein has many important functions for the body and the brain. It helps to make neurotransmitters to help us focus, stay motived, plan and problem solve. However, so much of our children's options for protein are highly processed and loaded with hidden sugars, artificial colourings and preservatives that only serve to hinder their brain function and health as opposed to help it. Examples of these "unhelpful" protein foods include processed deli meats, luncheon meats, hotdogs, processed cheeses, and Cheez Whiz.
Alternatively, healthy proteins include a boiled egg, left over dinner such as chicken, steak, salmon, cans of tuna, seeds, chickpeas, hummus, seaweed, quinoa, non GMO soy, plain Greek yoghurt, kefir, hormone free sausages, protein powder etc. 
Goal: Include a healthy protein into your children's lunch each day.
#5. Stay Hydrated
We all hear that we need to drink water, but it helps to know why. Just a 2% drop of hydration can cause fuzzy short-term memory and a 5% drop in water levels in the body can cause 25- 30% loss of energy. But it is important to consider what your child is drinking as most people, including children, are consuming their excess sugar intake from sugar-sweetened beverages. There is no need to pack juice boxes for kids' lunches as the health benefits of the fruit juice has been lost in processing leaving a sugar-loaded drink with limited nutritional value. Just stick to good old plain water!
Goal: Have a water bottle packed each day for your child. If they are not partial to plain water, you can use stevia-sweetened flavourings or cut up fruit in it. If it is a hot day add in ice cubes. 
Putting It All Together
Following these guidelines, will be a great start to help give your child the nutrients and fuel they need to stay focused and engaged in learning as well as support a healthy immune system, which in these current times is just as important.
So, each day in your child's lunch aim to include:
At least one fruit
At least one vegetable
1-2 complex carbohydrates
A good fat
A healthy protein
Water
With these nutritional bases covered, not only will you be providing your child with the foundation for optimal physical functioning, but you may find other improvements such as improved mood, less tantrums, better sleep and better interactions with their peers and family members. 
All the best during this back-to-school season, and good luck with your lunch box challenge!