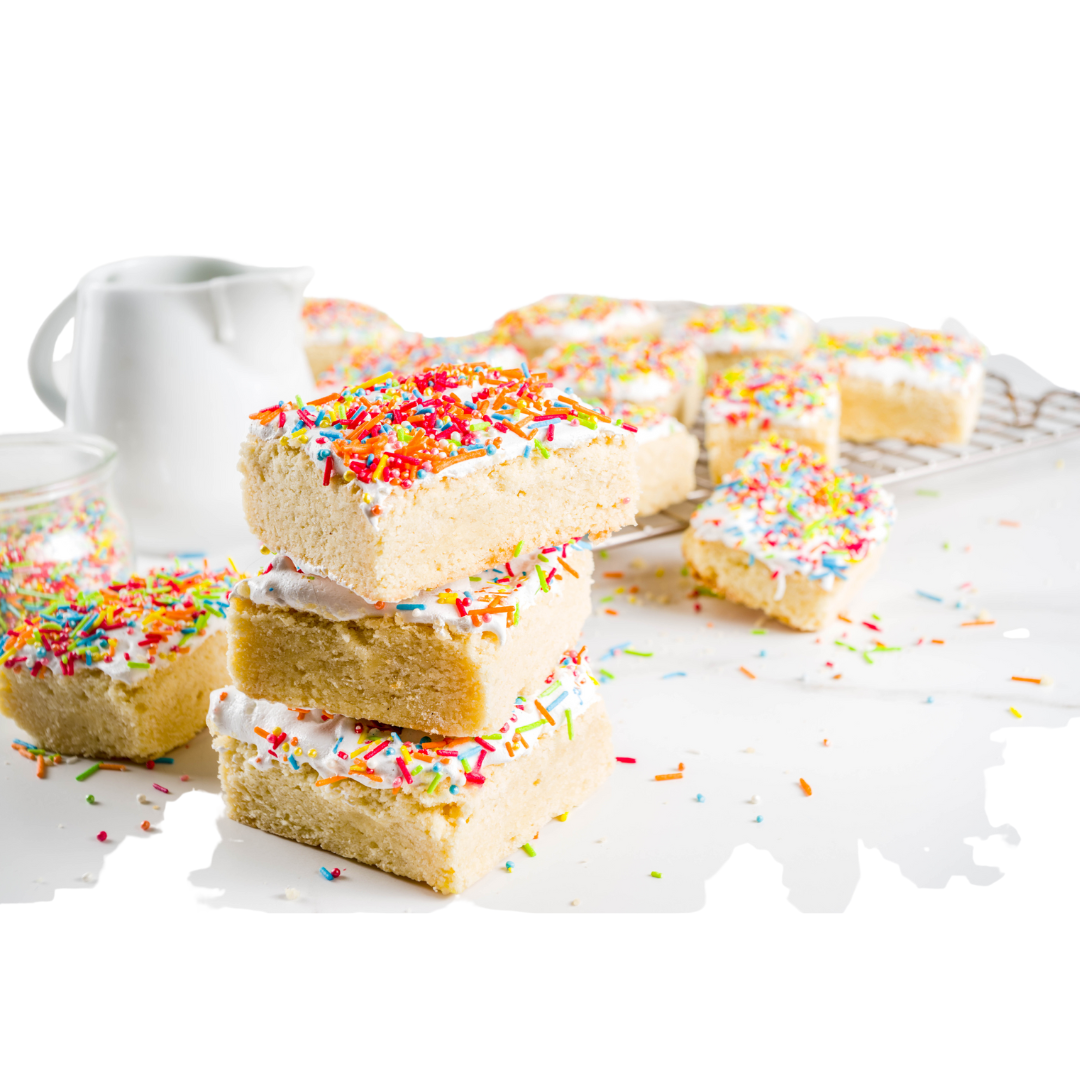 These tasty treats are great for people that are looking for a fun gluten free, low sugar, low carb treat.
In fact, this makes a great keto friendly dessert for anyone following that diet. It makes 16 bars with 4 grams of protein, 20.5 grams of fat, 4 grams of carbs and 2 grams of fiber.
This treat will not spike blood sugars and will support better balance of mood and energy throughout the day.
With the coconut sprinkles it can be a great birthday party or kids treat too. The sugar used in this recipe can be monk fruit, erithytol or swerve which have 0 calories and does not spike blood sugars. You can freeze or refrigerate them so can be a quick grab and go when that sugar craving comes on.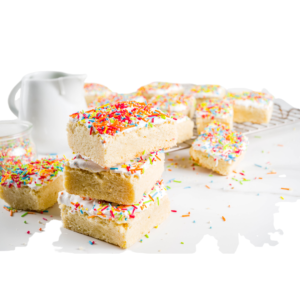 Sugar Cookie Bars
Instructions
To Make the Sprinkles
In a small bowl, mix the coconut flakes with a drop or two of food colouring until well combined. If you are using powdered food colouring, add a drop of water to help the colour adhere to the coconut. Spread on a sheet and let dry until ready to use. Repeat with more coconut for any other colour of sprinkles you want.
To Make the Bars
Preheat oven to 325 degrees. Grease a 9-inche square baking pan. In a large bowl, whisk together the almond flour, coconut flour, granulated sweetener, baking powder and salt. Stir in the melted butter, egg, and vanilla until well combined. Spread the dough evenly in the greased baking pan and bake until the edges are golden brown, about 18 minutes. The center will still be very soft. Remove from the oven and let cool completely in the pan.
To Make the Frosting
In a medium bowl, beat the butter and cream cheese with an electric mixer until smooth. Beat in the powdered sweetener. Add the cream 1 tsp at a time until the frosting is spreadable. Beat in the vanilla and a small amount of food colouring, if using, until well combined.
To Assemble
Spread the frosting over the cooled bars. Strew coconut sprinkles over the top. Cut into 16 squares.
Ingredients
Coconut Sprinkles
1

tbsp

unsweetened shredded coconut

natural food colouring in a variety of colours
Bars
2

cups

blanched almond flours

2

tbsp

coconut flour

1/4

cup

granulated erythritol-based sweetener

1/2

tsp

baking powder

1/4

tsp

salt

1/2

cup

(1 stick) unsalted butter, melted

1

large egg

1/4

tsp

vanilla extract
Vanilla Frosting
1/2

cup

(1 stick) unsalted butter, softened

2

ounces

(1/2 cup) cream cheese, softened

1/2

cup

powered erythritol-based sweetener

2-4

tbsp

heavy whipping cream, room temperature

1/2

tsp

vanilla extract

natural red food colouring (optional)