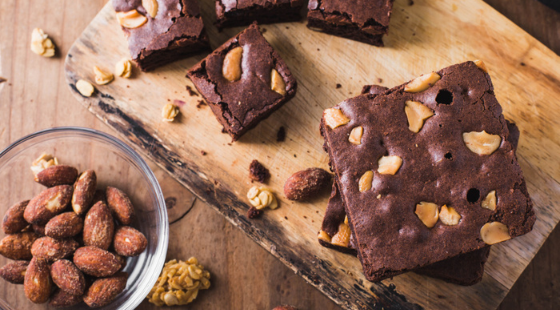 Who doesn't love a good brownie? Well, these ones have all of the fudgy taste you want in a brownie with none of the sugar crash!
Thanks to the black beans and eggs, each serving has 7 grams of protein! The addition of protein-containing ingredients to a brownie recipe helps to balance blood sugar levels and ensure that it sustains your energy levels. 
In addition to the protein content, black beans also contain lots of fibre to help keep you fuller for longer and to support gut health. As indicated by their deep black colour, they are also full of antioxidants, which are the pigments responsible for their colour. Antioxidants help protect the body from a wide range of conditions ranging from infections to some cancers.
Xylitol is the sweetener used in this recipe, and is a healthy swap out for regular sugar! Xylitol is a sugar alcohol, so it provides a sweet flavour without spiking blood sugar levels. As opposed to regular sugar which contributes to dental issues, xylitol is also protective for the teeth.
Of course, the chocolatey flavour of the brownies is all thanks to cocoa! Cocoa is one of the richest dietary sources of the mineral magnesium. Magnesium is needed as a cofactor for over 300 enzymatic reactions in the human body, but it's most well-known for being a relaxant. Additionally, magnesium helps to balance blood sugar levels (1), which is especially important when consuming sweet treats!
Next time you're in the mood for a delicious, chocolatey brownie… we hope you'll give these ones a try! Happy baking!
References
1. https://www.healthline.com/nutrition/is-magnesium-good-for-my-blood-sugar-levels-if-i-have-diabetes#1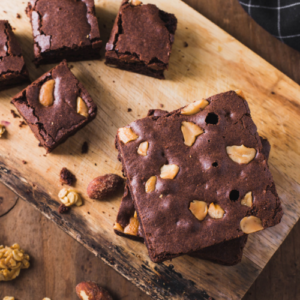 Black Bean Brownies
Who doesn't love a good brownie? Well, these ones have all of the fudgy taste you want in a brownie with none of the sugar crash!
Ingredients
2

cups

Black Beans

cooked

3

Eggs

1/4

cup

Coconut Oil

melted

1

tsp

Vanilla Extract

1/4

tsp

Sea Salt

3/4

cup

Cocoa Powder

1/4

cup

Xylitol

1/4

cup

Apple Sauce

or plain coconut yogurt

2

tbsp

Almond Butter

1/2

tsp

Baking Powder

100

grams

Organic Dark Chocolate 75%

chopped and divided

1/4

cup

Sliced Almonds

⅛

cup

Roasted Cashews

chopped
Instructions
Preheat oven to 350ºF. Line an 8 x 8 baking dish with parchment paper.

In the bowl of a food processor, add the cooked black beans and eggs and begin to process while slowly pouring in the melted coconut oil. Process until the beans are very smooth.

Add vanilla, salt, cocoa powder, xylitol, apple sauce and baking powder to the black bean mixture. Blend until well combined, scraping down the sides of the bowl as needed.

Add half of the chocolate chunks to the brownie batter and pulse approximately 5 times, just until mixed.

Using a spatula, transfer the batter to the prepared baking dish and smooth the top out evenly. Sprinkle the rest of the chocolate chunks, the sliced almonds, and the roasted cashews evenly on the top of the batter mixture.

Bake for 30 to 35 minutes, or until a toothpick inserted into the centre comes out with just a few moist crumbs.

Let the brownies cool completely at room temperature, then move them to the fridge for at least 4 hours before cutting into squares.
Notes
Nutritional information per serving:
Calories: 207
Carbs: 20g
Fibre: 6g
Sugar: 3g
Protein: 7g
Fat: 13g