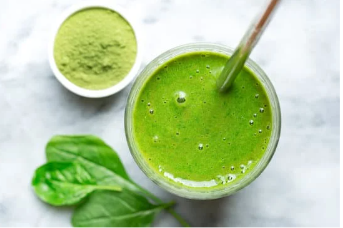 This rich smooth green tea is delicious on a winters morning or curling up with a good book or movie.
Not only is it delicious but it is loaded with health benefits!
You can use green tea or matcha green tea powder. There are so many health benefits of green tea. I would classify this is one of the super foods because of the extensive research that has been done it for various health conditions and diseases. Green tea is rich in antioxidants, in particular polyphenols, which help to combat free radical damage. Free radical damage can negatively impact your organs and contribute to various diseases.
Green tea contains L theanines which is a calming amino acid that increases the activity of the inhibitory neurotransmitter GABA, which has anti-anxiety effects. It also increases dopamine and the production of alpha waves in the brain, which can help boost motivation and get you going throughout the day. (1)
A study published in the Journal of Obesity Research showed that habitual tea drinkers had an average of 19.6% less body fat, and had slimmer waists, than people who didn't drink tea regularly. Most of these tea drinkers chose green tea.
Green tea also contains a type of flavonoid called EGCG, which has not only shown to help burn fat and reduce diet-induced obesity, but also helps to keep the weight off afterwards (Obesity Research, June 2005). EGCG, can help inhibit an enzyme that breaks down the hormone norepinephrine (2). When this enzyme is inhibited, the amount of norepinephrine increases, promoting fat breakdown and facilitating weight loss (3).
Several studies suggest that taking green tea extract or EGCG supplements can make you burn 3–4% more calories at rest, although some even show an increase as high as 8% (4,5,6).
Looking for another way to use green tea? Check out this great green tea banana ice cream recipe!
Coconut butter is made by pureeing coconut meat, with the coconut oil. The spread is solid at room temperature and softens when heated. It has nutrients coconut oil doesn't, specifically fiber. One tablespoon of coconut butter has 2 grams of fiber. It also contains protein, potassium, magnesium and iron.
Enjoy this creamy rich green tea this winter!
References
1. https://apjcn.nhri.org.tw/server/APJCN/17%20Suppl%201/167.pdf
2. https://www.ncbi.nlm.nih.gov/pubmed/10584049
3. https://www.ncbi.nlm.nih.gov/pubmed/16176615
4. https://www.ncbi.nlm.nih.gov/pubmed/17299107
5. https://www.ncbi.nlm.nih.gov/pubmed/17906192
6. https://www.ncbi.nlm.nih.gov/pubmed/20372175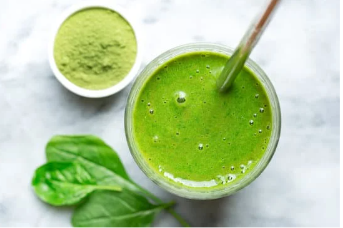 Coconut Matcha Tea
Looking to spice up your matcha game? We have a great coconut macha tea recipe for you to try.
Ingredients
1

cup

Water (hot)

1½

cup

Canned Coconut Milk

1

tsp

Green Tea Powder

1

tbsp

Coconut Butter

1

tbsp

Raw Honey (optional)
Instructions
In your blender, combine the hot water, coconut milk, matcha, coconut butter, and raw honey (if using). Blend until creamy and frothy. Pour into a mug and enjoy!
Notes
Nutritional information per serving:
Calories 377
Iron 1mg
Fat 32g
Carbs 24g
Fiber 2g 
Sugar 19g 
Protein 3g 
Sodium 40mg 
Potassium 232mg
Magnesium 5mg
Calcium 39mg