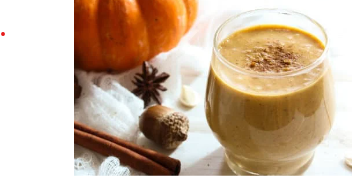 This delicious yet simple Plain Greek Yogurt has less carbs and sugar that regular yoghurt and almost twice the protein (24 grams compared to 13 grams in regular plain yogurt) making it a much healthier option for weight management.
Greek yoghurt has less of the sugar lactose making it easier for people that are lactose intolerance to digest.
Pumpkin is super nutritious. One cup of cooked pumpkin (245 grams) contains 2 grams of protein, 3 grams of fiber and 245% of RDA (recommended daily intake) for vitamin A and 19% of the RDI for vitamin C. It is also low in calories as 94% of pumpkin is make up of water.
Pumpkins contain antioxidants, such as alpha-carotene, beta-carotene and beta-cryptoxanthin. These can neutralize free radicals, stopping them from damaging your cells and can reduce your risk of cancer. (1,2) Because of it's high Vitamin A levels it helps support healthy eyes and boost the immune system.
Maple Syrup contains vitamins, minerals and antioxidants. Studies indicate that maple syrup contains 24 different antioxidants (3). The darker syrups are made from sap extracted later in the harvest season and they are higher in the antioxidants. When buying maple syrup, make sure to read food labels carefully. This way, you'll get real maple syrup — not just maple-flavored syrup, which can be loaded with refined sugar or high-fructose corn syrup.
For another great recipe containing maple syrup, check out our turmeric latte recipe.
With this yoghurt recipe you can make a batch of this and store in the fridge for up to 4 days.
References
1. https://www.sciencedirect.com/science/article/abs/pii/S0308814697001969
2. https://pubmed.ncbi.nlm.nih.gov/12134711/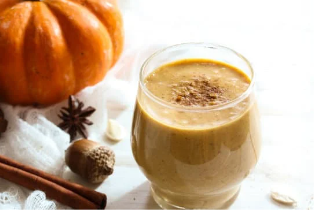 Pumpkin Pie Greek Yogourt
Love pumpkin pie but don't love all the calories that come with it? This pumpkin pie yogourt is what you're looking for!
Ingredients
3/4

cup

Plain Greek Yogourt

1/3

cup

Pureed Pumpkin

1 1/2

tbsp

Maple Syrup

1

tsp

Pumpkin Pie Spice

1/2

tsp

Vanilla Extract

1/4

tsp

Sea Salt
Instructions
Whisk all of the ingredients together in a bowl until well combined. Enjoy!
Notes
Nutritional information per serving:
Calories 253 
Iron 2mg
Fat 4g
Vitamin D 75IU
Carbs 37g
Vitamin E 1mg
Fiber 3g
Sugar 26g
Riboflavin 0.4mg
Protein 18g
Cholesterol 25mg
Vitamin B6 0.1mg
Sodium 704mg
Folate 10μg
Potassium 246mg
Vitamin A 13652IU
Magnesium 28mg
Vitamin C 15mg
Zinc 1mg
Calcium 438mg
Selenium 1μg