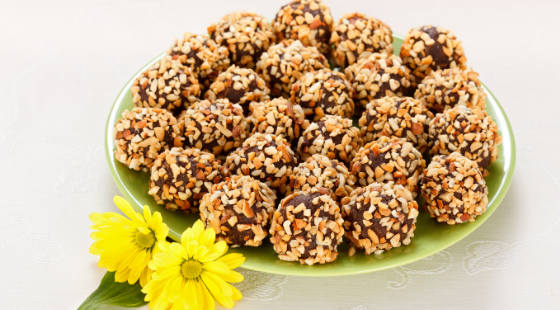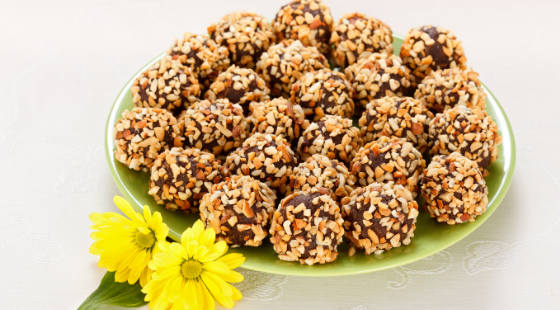 This is a specific type of elimination diet, which aims to remove certain small-chain carbohydrates from your diet to reduce IBS symptoms including abdominal pain, bloating, constipation, and diarrhea – with a success rate of up to 86% (1).
A low-FODMAP diet restricts consumption of most grains and dairy, many fruits, and all legumes… so, choosing a healthy snack may seem difficult. But, this hazelnut cocoa bites recipe provides a tasty snack while containing all low-FODMAP ingredients! Plus, the recipe is also paleo and vegan friendly, too!
Hazelnuts are filled with nutrients and antioxidants that support and protect many of our body's systems. Specifically, hazelnuts are considered to be heart healthy. Studies of individuals with consistent hazelnut consumption show a reduction in their bad cholesterol (LDL) while their good cholesterol (HDL) levels remained the same (2).
Cocoa powder is produced by crushing cocoa beans and removing the fat content. While cocoa powder is most famously associated with the production of chocolate goods, research shows that cocoa powder alone can have a positive impact on blood pressure. Molecules within the cocoa powder react with molecules in the blood to expand blood vessels, ultimately lowering blood pressure (3). These have mainly been studied in healthy adults, and more studies on long-term effects are still needed.
Moderation is key while on a low-FODMAP diet because while many foods, including hazelnuts and maple syrup, are low-FODMAP in small quantities, the amount of FODMAPs gets higher and higher the larger a portion size that's consumed. So, if you're on a low-FODMAP diet, be sure to watch the serving size while enjoying this delicious snack!
References
Nanayakkara, W., Skidmore, P., O'Brien, L., Wilkinson, T., & Gearry, R. (2016). Efficacy of the low FODMAP diet for treating irritable bowel syndrome: the evidence to date. Clinical and Experimental Gastroenterology, 9, 131-142. doi: 10.2147/CEG.S86798
Orem, A., Yucesan, F., Orem, C., Akcan, B., Kural, B., Alasalvar, C., & Shahidi, F. (2013). Hazelnut-enriched diet improves cardiovascular risk biomarkers beyond a lipid-lowering effect in hypercholesterolemic subjects. Journal of Clinic Lipidology. 7(2), 123-131. doi: 10.1016/j.jacl.2012.10.005
Ried, K., Fakler, P., & Stocks, N. (2017). Effect of cocoa on blood pressure. Cochrane Database System Review. 4(4). doi: 10.1002/14651858.CD008893
Hazelnut Cocoa Balls
This Hazelnut Cocoa Balls recipe make for a tasty snack while containing all low-FODMAP ingredients! Chocolate and hazelnut has never been this healthy!
Ingredients
¾+¼

cup

Hazelnuts

use ¼ cup to roll balls in

3

tbsp

Hemp Seeds

2

tbsps

Cocoa Powder

2

tbsps

Maple Syrup

¼

tsp

Sea Salt
Instructions
Preheat oven to 375ºF. Line a baking sheet with parchment paper or a silicon baking mat. Spread hazelnuts even on the baking sheet and cook in the oven for approximately 8 to 10 minutes, until lightly toasted and fragrant.

Remove hazelnuts from the oven and place in a clean kitchen towel. Rub the hazelnuts with the towel to remove the skins. Place skinned hazelnuts in a food processor and pulse to chop well. On a small plate, reserve a ¼ cup of the chopped hazelnuts.

To the food processor add the hemp seeds, cocoa powder, maple syrup and salt to the hazelnuts and pulse until the mixture begins to comes together. You may need to scrape down the sides of the bowl to ensure it processes evenly.

Once the mixture has formed together, scoop the mixture from the bowl of the food processor. Using clean dampened hands, roll the mixture into 1" ball, then roll each ball into the reserved chopped hazelnuts.

Place in a covered container in the fridge for approximately 20 minutes to allow the balls to harden slightly. Enjoy!
Notes
Nutritional information per serving:
Calories: 116
Carbs: 7g
Fibre: 2g
Sugar: 4g
Protein: 7g
Fat: 10g