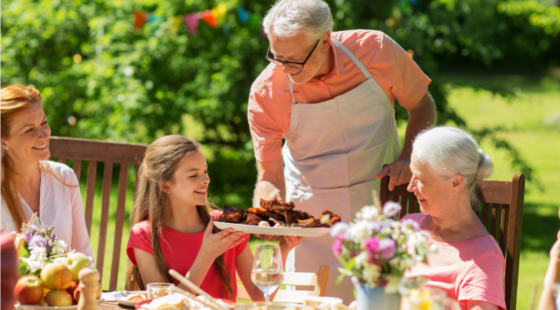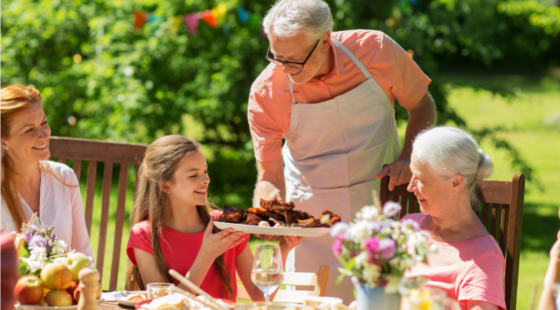 tIf you're reading this, we're guessing that summer weekends at the cottage, barbecues and patio weather are upon you!
Unfortunately, these gatherings are often loaded with unhealthy food choices like mayonnaise based "salads", alcohol, ice cream, and desserts. Thankfully, with abundant produce and naturally hydrating foods in season – and at their most delicious – it is easy to include good nutrition choices, with a little knowledge and pre-planning.
We're sharing our top 8 tips for staying healthy while enjoying the warmer weather and all the social gatherings that come along with it!
Top 8 Summer Nutrition Tips
Don't fall into the salad trap.

Salads are a great way to include more vegetables in your diet, but skip the calorie laden 'extras' like croutons, crispy noodles, cheese and bacon. Add some crunch to your salad with nuts and seeds, and try experimenting with different vegetables for texture. Grated Brussels sprouts, bean sprouts and shredded broccoli are all a great way to add texture to your salad!

Build a better burger.

Hamburgers are a barbecue staple, and can be quite nutritious if done right:
• You can skip the bun, and try wrapping your burger in lettuce leaves instead, or use portobello mushrooms for the 'bun' (which is great with goat cheese and basil).
• Choose lean meat for your patties, or you could even try chicken or turkey burgers.
• Swap out cheese and mayo for avocado slices or guacamole.
• Be sure to include lots of veggies piled high like fresh tomato slices, spinach or onions.
• Try experimenting with different flavours of mustard instead of barbecue sauce, which is typically high in sugar. You can also swap out ketchup, which is high in sugar, for salsa; and relish for dill pickle slices or sauerkraut.

Enjoy what is in season.

Summer is a great time to include a lot of fresh produce in your diet. It's in season, keeping with nature, and naturally hydrating. Adding more fresh fruits and vegetables is a great way to improve your overall nutrition and add more fibre to your diet. Try checking out a local farmer's market, and try something new.

Drink water.

It's important to stay hydrated in the warm weather, and water is the fluid your body craves. Skip the sugary iced tea, juice and sports drinks and make sure you get plenty of water over the course of the day, especially if you're in the sun or exercising. If you want some flavour in your drink, try our Keto Lemonade!

Have a little salt.

Too much sodium from processed foods is a problem for many people, but if you're spending time outside – particularly if you're exercising – you do need a little good quality salt in your diet to replace minerals lost through perspiration. Use a little sea salt or himalayan pink salt on your food to replenish.

Plan a healthy dessert.

Instead of ice cream, enjoy fresh fruit salad, watermelon slices, or homemade "Nice cream" (ice cream made without dairy). "Nice cream" is just like ice cream without all the added sugar and calories. Check out our 2-ingredient Green Tea Banana Ice Cream for inspiration!

Pack a cooler.

If you're going to the beach, a sporting event or even a friend's house, pack your own drinks and snacks so you're not at the mercy of the concession or buffet. Planning ahead goes a long way to reaching your nutrition goals!

Serve seafood.

Most of us don't eat enough fish and seafood, and it's lighter taste is perfect for hot summer weather. Add more fish, shrimp, clams and other seafood to your diet this summer; they are full of nutrients that reduce inflammation, contain the healthy fat your brain needs, and require less cooking than meat (bonus in the hot weather!).
We hope you can get outdoors to enjoy the beautiful weather and some excellent company, all while supporting your health!