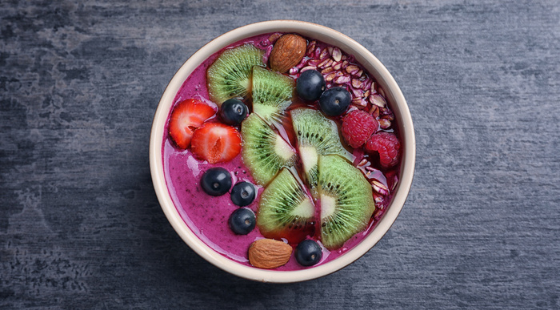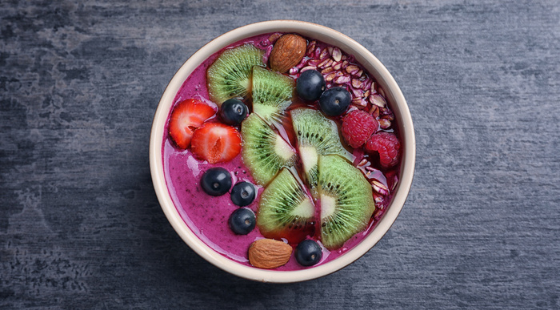 Acai berries have recently become a popular superfood.
While this berry is small, it is packed with nutrients, antioxidants and many health benefits. This recipe capitalizes on acai's bold flavour to create a bowl perfect for breakfast or lunch!
Acai berries are high in antioxidants which help prevent the body from free radical damage. Free radicals are made by the body through natural molecular processes and introduced into the body through environmental toxins. If free radicals are not neutralized in the body by antioxidants, they can cause damage and ultimately lead to disease. By neutralizing free radicals due to the high antioxidant content, acai berries help to protect the body against diseases such as cancer and diabetes (1). To learn more about the many benefits of acai berries, check out our acai berry article.
In addition to utilizing acai berry powder, this recipe contains many other healthy fruits. This is helpful as a diet rich in a wide-range of fruits provides a variety of fibres that help diversify the gut microbiome (2).
Kiwi is a particularly important food to highlight when discussing digestive health. Kiwi has been shown to have a positive impact on irritable bowel syndrome (IBS) symptoms such as abdominal discomfort and constipation. This ability is attributed to its high-water content and rich fibre content (3). Kiwi also benefits the gut microbiome. It contains the proteolytic enzyme, actinidin, which assists with the digestion of protein (3). 
The fruits in this recipe aren't the only elements assisting with digestion. The flax seeds and chia seeds are also high in fibre content. The fibre in these seeds simultaneously feed the good bacteria in your gut and add bulk to your stool, helping you easily pass waste (4). 
When a bowl is this colourful, this nutritious, and this easy… it is too good not to try!
References:
Florence, T. (1995). The role of free radicals in disease. Australian and New Zealand Journal of Ophthalmology. 23(1), 3-7. doi: 10.1111/j.1442-9071.1995.tb01638.x
Holscher, H. (2017). Dietary fiber and prebiotics and the gastrointestinal microbiota. Gut Microbes. 8(2), 172-184. doi: 10.1080/19490976.2017.1290756
Richardson, D., Ansell, J., & Drummond, L. (2018). The nutritional and health attributes of kiwifruit: a review. European Journal of Nutrition. 57(8), 2659-2676. doi: 10.1007/s00394-018-1627-z
Slavin, J. (2013). Fiber and prebioitics: mechanisms and health benefits. Nutrients. 5(4), 1417-1435. doi: 10.3390/nu5041417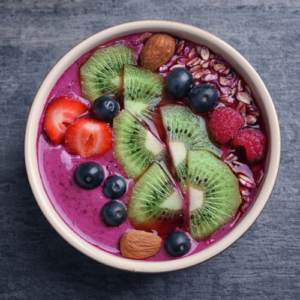 Acai Bowl
Acai berries have recently become a popular superfood. While this berry is small, it is packed with nutrients, antioxidants and many health benefits.
Ingredients
¼

cup

Oats

¼

cup

Almonds

crushed

1½

tsps

Coconut Oil

1½

tsps

Raw Honey

2

Bananas

2

cups

Frozen Berries

1

cup

Baby Spinach

1

cup

Almond Milk

unsweetened

2

tbsp

Hemp Seeds

1

tbsps

Ground Flax Seed

2

tbsps

Chia Seeds

2

tbsps

Acai Powder

2

tsps

Cinnamon

¼

cup

Strawberries

sliced

¼

cup

Blueberries

¼

cup

Raspberries

1

Kiwi

sliced
Instructions
In a dry pan toast, over medium-low heat toast the oats and crushed almonds for approximately 5 minutes. Toss frequently to avoid burning.

Add coconut oil and honey. Stir regularly for another 2-3 minutes ensuring ingredients are coated evenly. Remove granola mixture from heat and set aside to cool.

In a blender combine banana, frozen berries, spinach, almond milk, hemp seeds, ground flax seed, chia seeds, acai powder and cinnamon. Blend until smooth.

Divide smoothie mixture evenly into bowls. Top with strawberries, blueberries, raspberries, kiwi, and granola. Enjoy!
Notes
Nutritional information per serving:
Calories: 562
Carbs: 78g
Fibre: 18g
Sugar: 38g
Protein: 13g
Fat: 25g